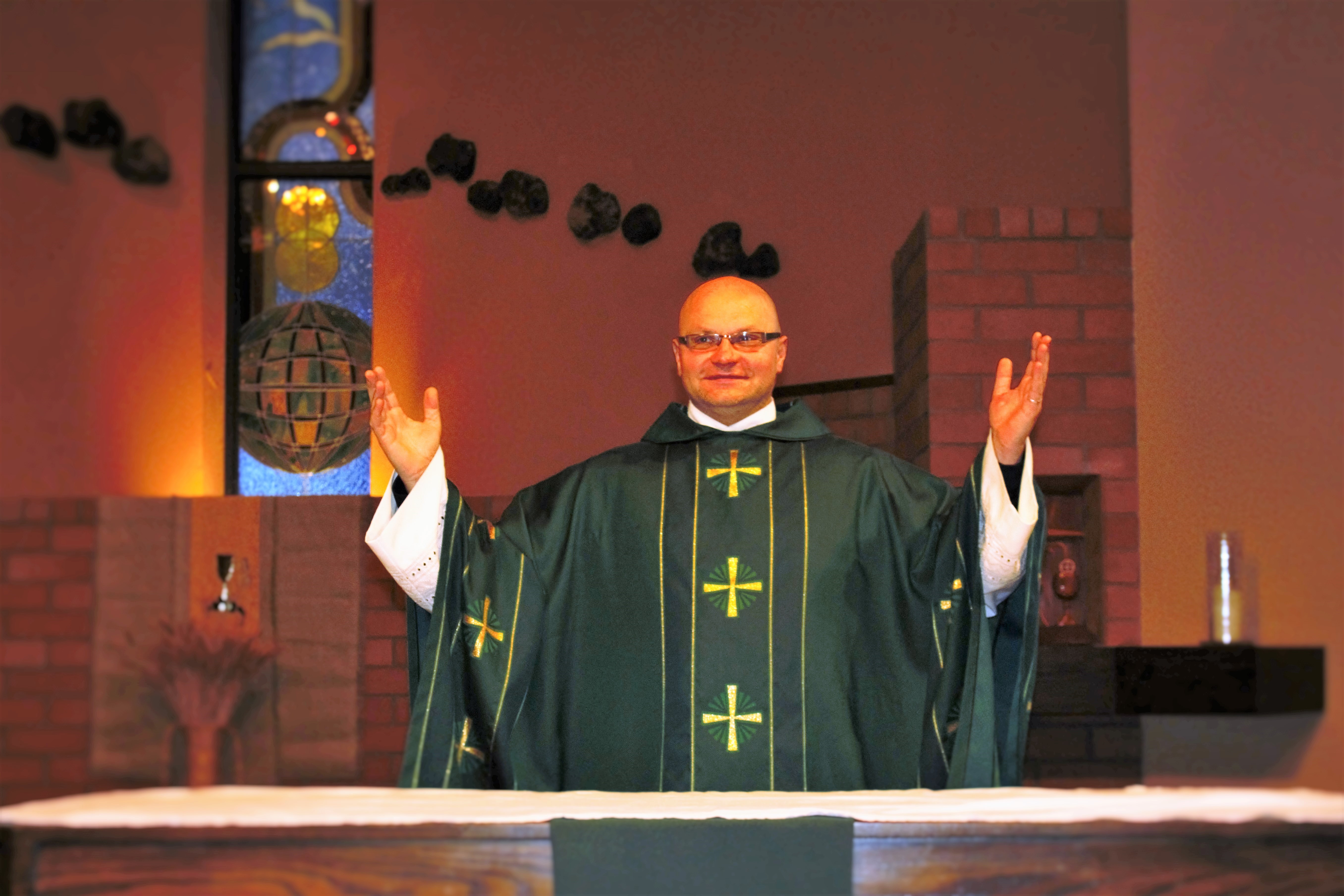 In today's Gospel Jesus has returned to the west shore of the Sea of Galilee, he is on home ground and as usual, large crowds have gathered around him, yet one person, an important one, comes forward. Jairus is a Jewish official, the supervisor of activities in the Temple. Yet in spite of his influence and his religious status, he shows great humility and falls at the feet of Jesus and begs him to save a life of his 12-year-old daughter.
He is a desperate man and he craves the help of the one person who can save his daughter. This is a great act of humility for this influential man, but as we all know, desperation can drive us to do things that might otherwise make us uncomfortable. Oddly, Jesus says nothing and promises nothing. He simply follows him to his house. He lets his actions speak for him.
Death, sickness, anguish and a series of human miseries are brought to our consideration by today's readings. We find light in them to understand all these limitations of our nature. Wisdom explains the origin and nature of death to us. 'Death was not God's doing, he takes no pleasure in the extinction of the living. To be – for this he created all.
Death, we are told, is the result of that original disobedient choice of our first parents. But even though we die, death is not an annihilation. God formed us to be imperishable, he made us in the image of his own nature. There is life after death and furthermore a moment will come when death, the last of the enemies, will be destroyed.
The growing sophistication of medical equipment and the expertise of medical personnel, is never a reason for us to give up faith in God who cares and heals His children.
The first reading From the book of Wisdom made it clear that God made all things that they may have life and all creatures are created to be wholesome.
It is only a person who has never been sick who will not know the value of good health. We receive this gift of life and good health as treasures. We often become sick and experience the fragility of life, so that we shall appreciate more this gift we have received. What is the value of life and good health when it does not glorify God? Many today are sick and lying in the Hospital beds. Do you think that you who are healthy are better than them?  Not at all, you are simply lucky and blessed.
The story of the woman in the gospel who had suffered for twelve years of hemorrhages reminds me of suffering of incurable disease. It is very easy to slip into despair and give up faith in God when one finds himself or herself in a situation where medical expertise seem to offer no solution.
The sickness of the woman in the gospel has left her in misery having spent all her life savings to get a cure but her situation kept getting worst. She lost everything and suffered terribly in the hands of many doctors, but had only one thing left which is her undying faith in God who heals. She was convinced that God will heal her and made a decision to move towards Jesus to touch Him. Her touch was not just an experimental touch or a trying of her luck, but a touch borne out of a trusting faith. An absolute faith in God who heals was her last option and she got her healing.
A child of God never underestimates the healing power of God, that is why the physician does not have the final say about your health condition.
This whole story has also a much deeper meaning: Blood is a symbol of life a source of life , person loosing blood is person who is dying, there is no physician who can stop you from dying, in some point he will admit there is nothing he can do, you have to die.
The one who can save us from death is Jesus. He can stop you from dyeing. He can give you life. How do you make it happen? You need to touch him, to meet him in your life, to have faith. Only Jesus save you from death.
St Paul says "… For this reason we never become discouraged. Even though our physical being is gradually decaying , yet our spiritual being is renewed day by day."( 1Cor 4:16). Accept your cross with faith and hope in God, who alone can turn things around for you.
God gives us life and His desire is for us to live and not to die. Death came into the world as the work of the devil and we experience it.
God desires good health for us and heals us when we are sick. God can also raise the dead as we saw in the gospel how the faith of Jarius brought her daughter back to life again.
The message of today's Gospel is twofold: only God can save you from death and give you life, even for those who are dead there is hope in Jesus Christ, he can do it, he has done it. These two miracles of healing teach us that Jesus wills life, full life, for all God's children.
The two healings also reveal Jesus as a generous, kind and compassionate God who wills that men should live their wholesome lives fully. These miracles were worked by Jesus as reward for the trusting Faith of a synagogue ruler and of a woman with a hemorrhages. Jesus amply rewarded the Faith they had by granting them health and life.
The gospel passage we hear today invites us to consider the mystery of death. By the example of Jesus, we are challenged to put our faith in God who is Lord of both the living and the dead. When approached by the grieving family of a young girl who has just died, "Jesus said, 'The child is not dead but sleeping.' Jesus took her by the hand and said to her, 'Do not fear, only believe. Little girl, get up!' And immediately the girl got up." (Mark 5:36, 39, 41-42)
Now, it could be that the girl really was only asleep, not dead, and Jesus was the only one to perceive the truth. More likely, I believe, is that Jesus is speaking metaphorically of death. The little girl was truly as dead as dead could be. Were it not so, Jesus raising her would be no miracle at all, only an abrupt arousal from her nap.
And we must keep in mind what the gospel doesn't reveal: while Jesus did raise up this little girl, she eventually died and stayed dead, as did every one of the other miraculous resurrections Jesus worked as related in the gospel accounts. Death is the only doorway to heaven, and Jesus greatly desires heaven for all of us.
Bodily death is not the absolute evil. For those who have faith in Jesus, death is not the final end. And he assures us: "He who believes in me, though he die, yet he shall live, and whoever lives and believes in me shall never die" (Jn 11:25-26).
For Christians, death is only the passage to eternal life and dying is referred to as falling asleep. That is what Jesus said regarding the daughter of Jairus: "Why this commotion and weeping? The child is not dead but asleep."
Instead, we must remember that real death is lack of faith. It is the dreadful separation of man when he breaks away from God. During our life on earth, when we are living without faith in God, we are separated from God – temporarily. But when we die without repentance and sacraments, the separation becomes final and irreversible – and that is real and eternal death.
Our challenge today is a simple question: Am I alive in Christ?