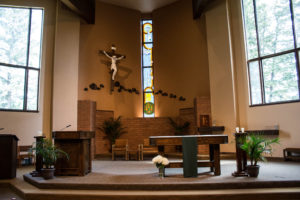 As the faith community of Risen Christ Parish, we are committed to the tradition of the Holy Roman Catholic Church to be the servants of Christ through steadfast acts of love, charity and compassion for the people of our northwest Montana community and for the world. We openly share the truth of Christ with all people in our humble service to God.
---
Mass Schedule
Weekend Masses
Saturday -5:00 pm
Sunday- 9:30 am
Weekday Masses
Monday - 8:45 AM
Tuesday - 8:45 AM
Wednesday - 12:10 PM
Thursday - 9:00 AM
Reconciliation is Saturday from 3:45-4:30 pm
Parish Office Hours:
Monday through Thursday, 10:00-12:00pm and 1:00-3:00pm
To be sure your announcement gets into the bulletin, please have your information in the Parish Office by noon, Wednesday.
The deadline for altar announcements is noon, Thursday.
To Register: go to www.risenchristkalispell.formed.org Click on register now and create your account. Be sure to follow the password requirements and check the square that you have read and understood the Terms of Service.  After you have created your account, you'll have access to FORMED provided materials (like the one above) purchased for you by our parish.  Please take advantage of this beautiful opportunity to learn more about your faith.                                                   Fr. Stan