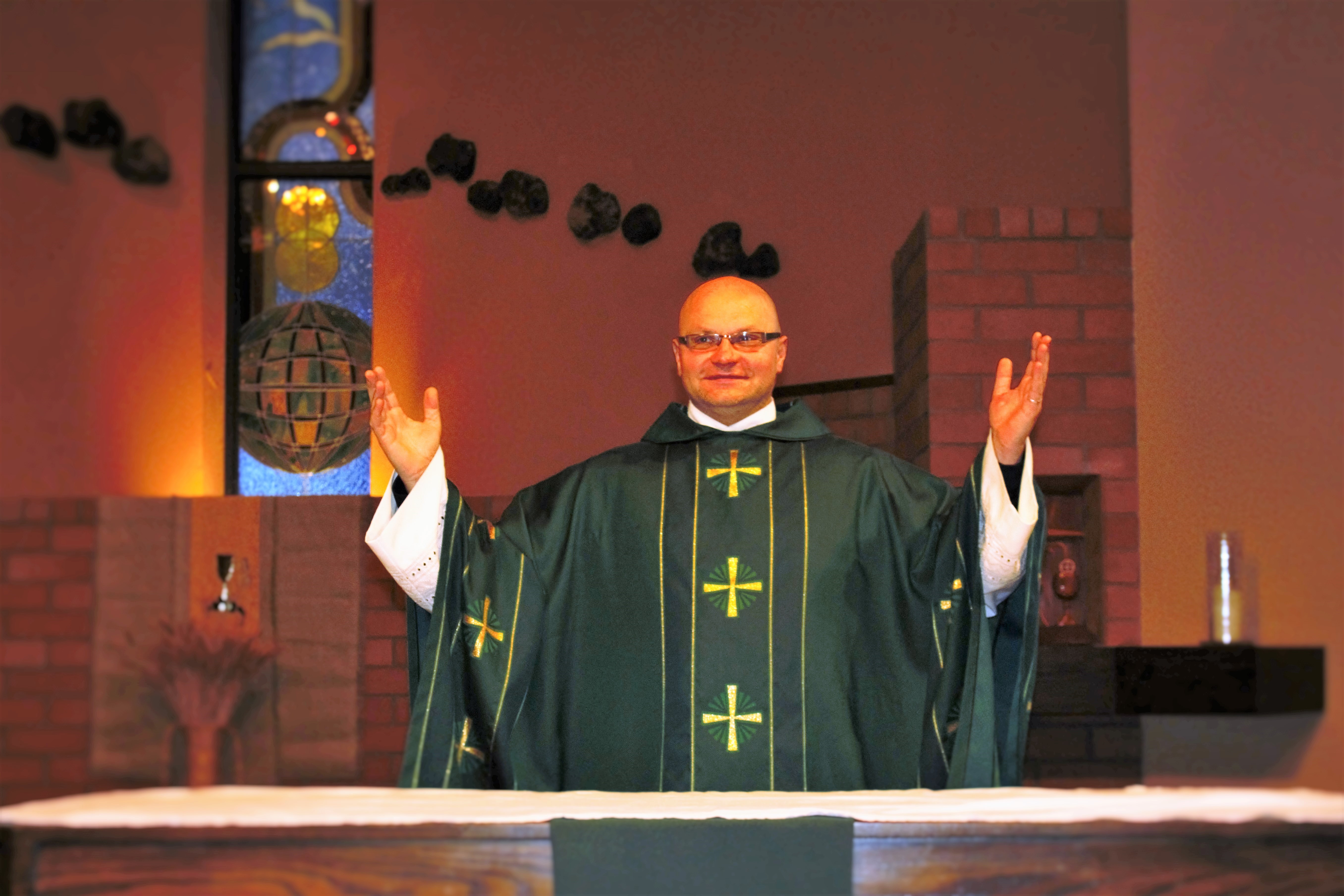 "I no longer call you slaves, I call you friends." We just heard during the Gospel reading. Jesus is saying something very beautiful in those words, something really wonderful about the humility of God in calling us to be, and making us, His friends. He comes to us not regarding us as slaves; rather He comes to us as His friends. He comes to us with respect, with caring, and in deep down love for us.
Jean Vanier describes for us what Jesus meant in the Gospel today:"Jesus says to you, 'I love you, and I want you to love each other. I want you to be kind to them, the way I am kind. I want you to care for them, the way I care for them. I want you to be with them when they need you, as I am with you when you need me.
"I want you to cherish them. I want you to sacrifice for them, as I sacrifice for you. Even if you must give up your life for them, I want you to do this, so that you might know my joy.
"My joy is to be with the children of men. My joy is full by being with you, being part of your lives, being as close as a vine is to the branches, to live your life with you, and hope that you will live my life with each other.
"If you do this, all men will know that the Son of God has come, and he has come with the Father, and the Father has come to bring peace and joy and hope to all peoples.'"
Jesus wants to be your friend.
How we describe a friendship, what it means to have a friend or to be a friend?
A friend is one who knows what to say in response to another person's self-disclosure. Friends reveal to each other their deep inner thoughts and feelings. When with respect and interest we accept our friend's inner self the great likelihood is that a deep and satisfying friendship will blossom. There are few things in life that are more satisfying and wonderful than such a friendship.
Jesus calls you his friend.
Our friends are there for us through thick and thin, but rarely cross the respectful boundaries of friendship. When we respond in kind, when we respond in return with our own acceptance, loyalty, and commitment in trust along with the signs of our affection and even love, something wonderful is born – something precious is brought to life.
Jesus calls you to be His friend.
Friendship is one of God's choicest blessings, and a friend is the channel through whom great emotional, spiritual, and sometimes even physical blessings flow. Friends will cheer us when we are sorrowful or depressed. Friends will challenge us to go beyond our original limits of shyness and give us encouragement when we allow ourselves to go beyond our fears. Friends will motivate us when we're ready to give up. Friends can provide strength for our hearts when life falls apart.
Jesus is always there to give all that to you as your friend.
Friends are there for us when all is well, and we want someone with whom to share life's pleasant and memorable moments. We often just want them around, to have a good time, to laugh, to act silly; to enjoy some mutually enjoyed activity. In how many ways have friends enriched our lives and made us feel loved, accepted, respected and cared for?
Jesus wants you to be His friend. He literally died for your love.
Friendship gives us courage. What a wonderful thing when a friend gives us courage and when we give courage to our friend. That gift lasts for a lifetime.
Jesus offers you His friendship for both this life and for all eternity.
Friends are the only source of bravery in our hearts. When we don't have any friends we won't come out and deal with life when there is trouble. But when we have friends with us we never sit a dark cave of self-centeredness and self-pity. We may not be brave but friendship gives courage to our hearts. Friends will try to save us in many situations. Friends will help us to avoid and to escape from big troubles. Friends will step out in front of us to shield us in times of problems and troubles. Friendship never knows how to run away from us during times of pain, loss, and suffering. A good friend stays with us when there is a problem and never goes away.
Jesus is always there for you wanting to be your friend in good times and in bad.
Have you noticed that when you pray, when you are in a close relationship with Jesus, when you experience friendship with Jesus, you find yourself in a place of safety? Have you noticed that you receive strength? "Ask," Jesus said, "and you will receive."
Have you noticed that when you are close to Jesus, when you are listening to His voice deep within you, that still inner awareness of His loving presence, you experience inspiration? This is something that goes a step beyond comfort, although Jesus, your friend, really wants to give you comfort. But more than comfort, He wants to inspire you, to inspire your thoughts, to inspire courage within you and give you the strength to act.
There's a lot of negative news that surrounds us every day, bad news about our world along with bad news about our economy and the numbers of people out of jobs. Negative thoughts about failure can seep into our hearts and souls. Many people are filled with bad news about themselves, bad news about them personally. The Evil One wants us to feel rotten about ourselves. Jesus gives us good news about ourselves in the face of all of the negative news we listen to and tell ourselves. We need to listen to Him and pay attention to His message of love for us, His message of personal love for each one of us.
Friends spend time with each other. That being so, we should allow ourselves to spend some personal time with Jesus; to be aware of His loving presence and to give Him our personal presence in return. Time alone with Jesus isn't a luxury, it is a necessity. When we tell ourselves that we are too busy we are depriving ourselves of time with Him, time with Him that can be healing, time with Him that can be inspiring, time with Him that allows us to receive His love and His gifts.
We can be slaves to our work. We can be slaves to our schedules. We can be enslaved by so many worries, concerns, and what we consider to be important commitments.
Jesus doesn't want slaves; He wants friends.
The words we heard in today's Gospel account are important words. They are the words of Jesus calling us to love, calling us to love others but above all calling us to love Him as our friend. He wants you to give Him your friendship and be His friend just as much as He wants to be with you always and in everything as your friend.
What remains for us is to let Him. Give Him the time and the chance to be your friend. In silence and solitude let Him come to you as your friend and give Him your inner self in return.