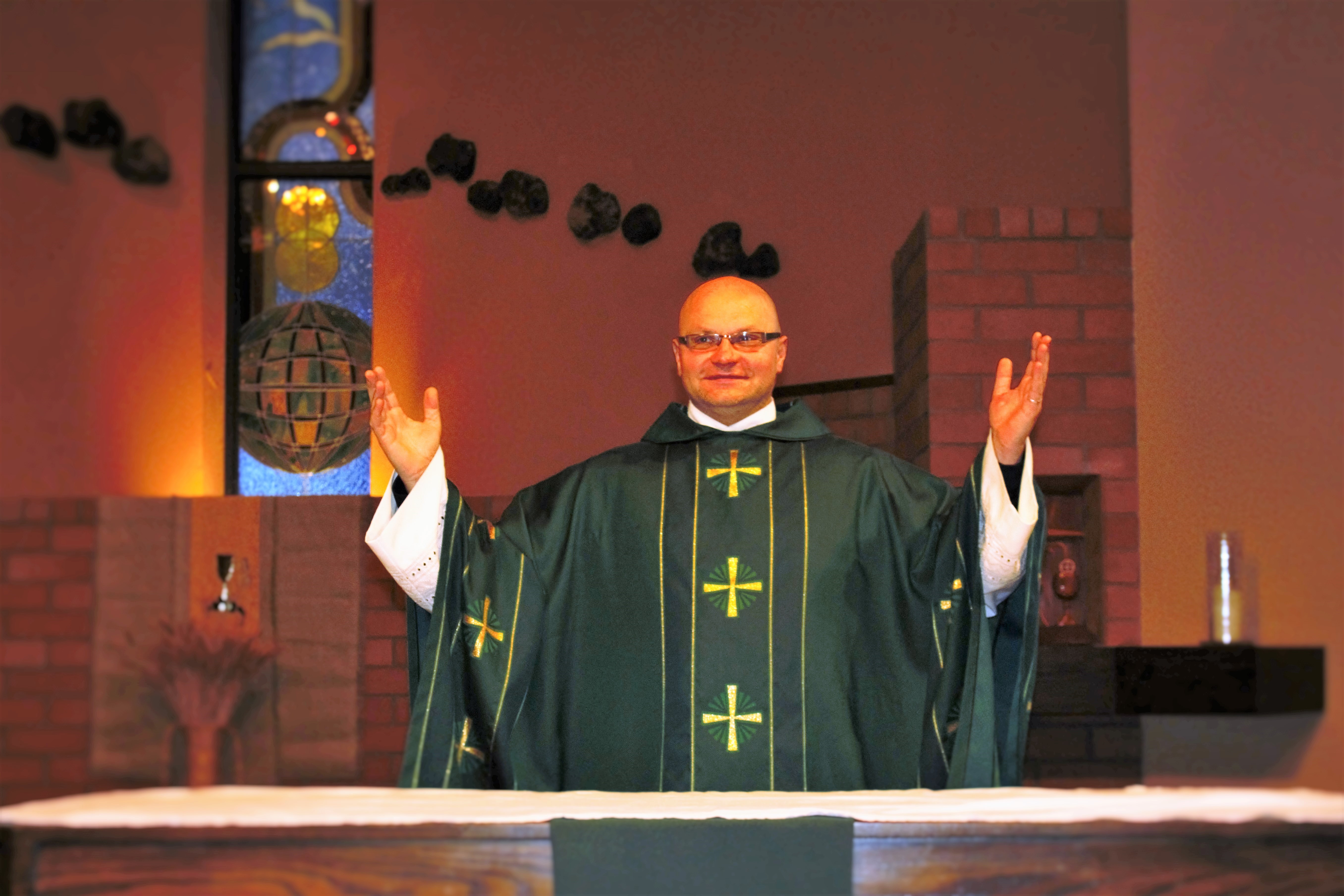 It's a curious thing that today's feast has two names – Palm Sunday and Passion Sunday – two names which, probably unintentionally, underline these two aspects of every human life, the giving and the giving back, the palms and the passion.
Jesus' welcome into the city of Jerusalem is a wonderful 'palms' moment filled with blessings, a moment of popularity and welcome. He gets the colt of the donkey to ride on and they even cover the street with their cloaks. They spread cloaks on the ground and wave palms, welcoming him as king with loud acclamations. Somehow the hosannas of the people are recognition of all that God had given his Son Jesus during his life.
The Passion, which we have just read is, on the other hand, the painful litany of Jesus' returning all to the Father. He divests himself willingly of everything; he allows himself to be stripped of all that is not God, so that he might show us, in a moment of supreme surrender, where our true treasure lies.
Betrayed by one of his inner circle of friends, arrested as a lawbreaker, deserted by his disciples, denied by the leader of his Apostles, condemned by the religious authorities, punished unjustly by the civil authorities, mocked and tortured by soldiers, stripped of his clothes, crucified between thieves – the innocent Jesus is left to die as a contemptible criminal, exposed on a Cross, jeered at by the crowds.
And yet one further torment lay in store for him, the greatest agony a person can suffer, the experience of the withdrawal of the merciful presence the Father: My God, my God, why have you deserted me?
Let us hasten to affirm that in reality God never leaves us, that he is always present to us and that he didn't actually abandon Jesus. What we are speaking of here is an experience of what it would be like if God really did withdraw from us.
In every human life, in yours and in mine, the palms and the passion are intermingled. We accept the first with gratitude and the second with faith and look forward to that moment when, having given back all that we were given, we enter into the unutterable joy of eternal life.
Today we start to celebrate the most important days in the life of the Church. This is the Holy Week Celebration. It starts on Palm Sunday This day marks the start of the passion and sufferings of Jesus that will reach its climax at Calvary on Good Friday. The Gospel reading helps us put ourselves in the mood of the Holy Week as we pray and meditate on the passion and death of the Lord. On Holy Thursday we celebrate the Last Supper, when we go back to the origin of the Eucharist, a Passover a meal Jesus had with his friends and followers, on Good Friday we go with Jesus to Calvary to celebrate his passion and death and to elevate the Holy Thursday meal to deeper understanding of Jesus giving his life as a sacrificial lamb.
Holy Thursday and Good Friday are very much organically connected events. For us Catholics what happened on Good Friday is being celebrated from that time on in every Eucharist we celebrate and participate in.
On Holy Saturday we begin to celebrate the joys of Resurrection and life of the Church with faith and hope of our own Resurrection to come
Holy Week should be holy. These are days, which should be marked with holiness. We need to clarify our understanding of holiness. The true concept of holiness has something to do with "wholeness". This means that the person is not divided; there is no discrepancy between orthodoxy and praxis. He should be a living witness to true "orthopraxis". Orthodoxy means genuine teaching, particularly Christian teachings. Praxis means practice or actual life of a person. In short, to be holy means to be whole – a solid combination of teaching and practice, that is, orthopraxis.
Holy Week is a special time to really examine our state of holiness or wholeness. So, we are encouraged to pray more, practice acts of penance and piety, examine our conscience, and be sorry for our sins, which destroy our wholeness as a person. Sins go against our true nature as God's children. May these days lead us to the sacrament of Reconciliation. This sacrament reconciles (re-establishes relationship; reunites) us with God, with others and with ourselves. We become whole once again. That is true holiness. Hopefully, this holiness attained during the Holy Week continues throughout the year and all through our lives. After all, holiness is not just an activity, nor it is a seasonal affair only, but a lifetime struggle and goal of every Christian.