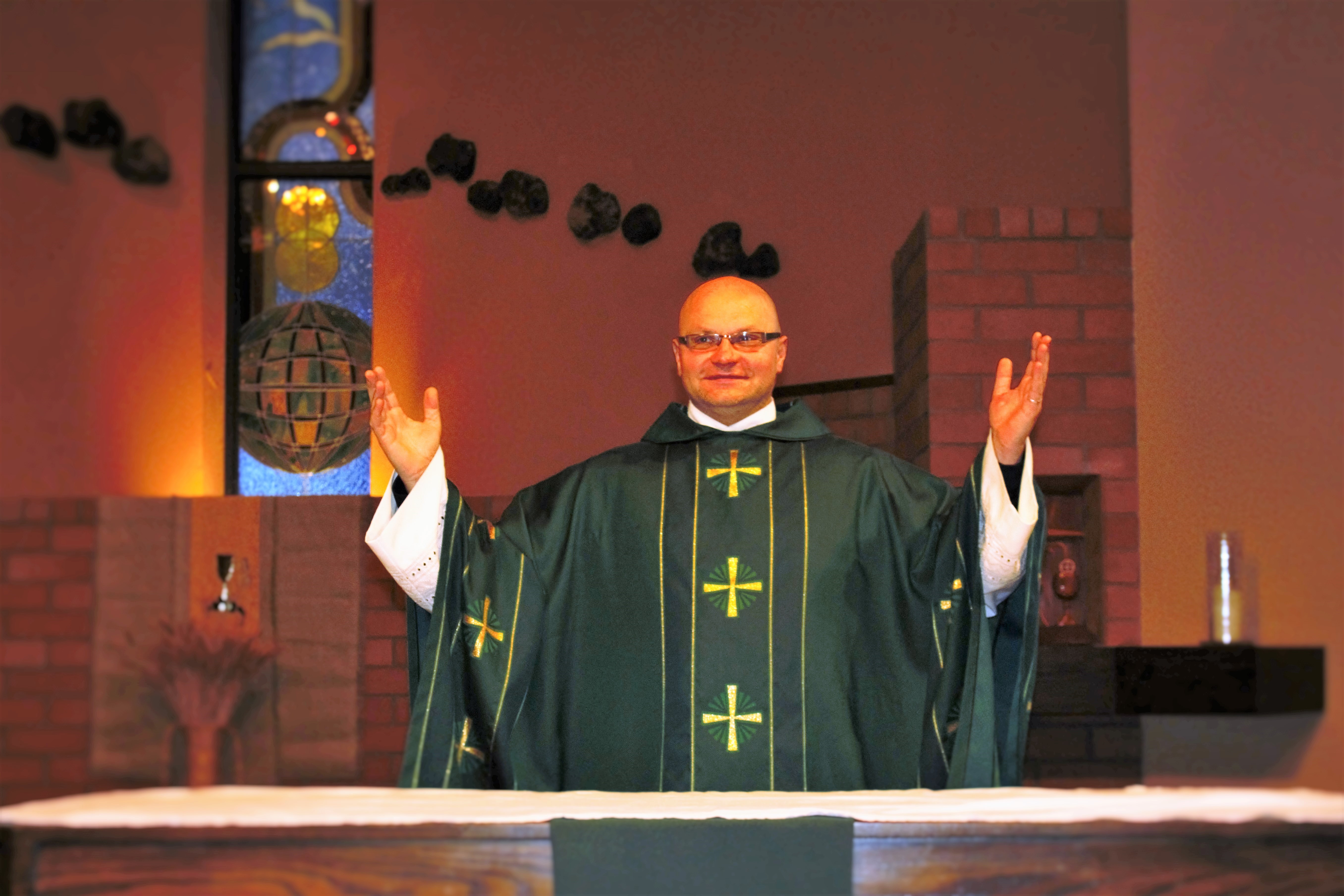 I would like to share two stories with you.  I received a phone call from a local funeral director. Could I do him and a grieving family a big favor, he asked. A priest was requested for a committal service at a local cemetery. Would I be able to meet the funeral party at the cemetery for the brief service? I assured him I'd be there at 11 AM on Friday.
When Friday arrived, the sun was shining and the air was comforting, a great day to be outside, even at a graveside. Arriving a bit early, I sat in one of the chairs arranged beside the open grave for the grieving family. I imagined a future day when I'd be sitting as a family member in a folding chair beside a dark pit waiting to swallow a member of my own family. Then it hit me: The dark pit was also waiting for the day when I'd be lowered into it. The headlights of the approaching funeral procession brought me back to the moment.
The pallbearers brought the casket up to the grave as grieving family and friends followed. Most seemed old and frail, canes pulling them across the spongy ground to the graveside. The funeral director guided the immediate family members to the six folding chairs. And that's where the somber decorum fell to shreds. Aunt Hilda refused to sit, proclaiming loudly to the distress of the weary, "The chairs are for the oldest and weakest. I'll stand." That began the tug of war, funeral director guiding old folks by the elbow to chairs as these same folks struggled with all their might to resist admitting they were the oldest and weakest.
Already at a disadvantage having had no previous contact with this family, I introduced myself, hoping for some small sign of welcome, but their lips remained tight with eyes concealed behind sunglasses. It seemed clear that this group of tough oldsters wanted me to get through the prescribed ritual as quickly as possible. With prayers completed in about fifteen minutes, I stepped back from the foot of the grave as the funeral director began to dismantle the large arrangement of pink roses atop the casket, handing each mourner a rose in remembrance of the departed.
In the gospel passage we hear Jesus reminding his followers, "Unless a grain of wheat falls to the earth and dies, it remains just a single grain; but if it dies, it bears much fruit." (John 12:24)
Though I stood at the open grave that Friday, I was surely more in the presence of life than of death. As I beheld the spunk of the bereaved family, it was more emblazoned spirit that was present, than fading flesh. Swinging canes and lashing tongues bespoke their vitality,  "The chairs are for the oldest and weakest. I'll stand."
So, they stood in defiance of death, bustling back to their waiting cars, the blooms in hand soon to lose both pink petal and delicate fragrance as stem and thorn toughened over time.
The next story.  A priest is walking around the neighborhood. From a distance he sees a very small boy trying to press the doorbell of a house. He is very small and cannot reach it. The priest, out of pity, walks toward the boy and stands behind him. Then, placing his hand kindly on the child's shoulder, leans over and presses the doorbell long and hard. Afterwards, the priest smiles and asks, "Now what little guy?" With a mischievous smile, the boy hurriedly replies, "Now, it's time to run!"
A lot of the troubles in our world are caused by people who would rather run than face their problems, difficulties and sufferings. Drug addiction, divorce, abortion and all vices are results of this desire to run away and avoid difficult situations. We need to be constantly reminded that suffering is part of our human existence. Problems and difficulties are realities and it is pointless to run from them.
We see suffering everywhere. We see innocent people and children suffer. We are tempted to complain to God. Why do the good and innocent suffer? If God is love and mercy, why does He allow people to suffer? If God is all powerful, why doesn't he stop suffering?
The answer to all these questions is right in front of us: the image of Jesus nailed to the cross. God became man like us in all things but sin. Jesus is God in human flesh. It is God who is nailed to the cross. It is God who suffered and died. He never complained. He did not succumb to the temptation to use His powers to get down from the cross. He did not stop His own suffering. He endured so that we may be saved. The image of Jesus on the cross tells us the important truth: God has no intention of taking suffering from the world. He knows there is value in suffering: "…if it dies, it produces much fruit" (Jn 12:24).
If we are suffering, the cross tells us that God is also suffering – for us and with us. We are not alone; God is one with us. Jesus was the grain of wheat that fell to the ground and died, which brought life and salvation to the world. This truth must give us inspiration and strength to bear our crosses patiently and follow Jesus to Calvary.
Jesus reminds us: "Whoever loves his life loses it, and whoever hates his life in this world will preserve it for eternal life." (Jn 12:25). Clinging to life in this world, which ultimately is passing away, makes us blind to the beauty and infinite goodness of eternal life. Willingness to let go of this life for the sake of eternity, helps us discover the fullness of life here and ever after.
In dying to our self, we begin to live.  Like the bread that must be broken in order to be shared; like the candle that must be consumed in order to give light, we too must "break and share" ourselves. In so doing, we make our own lives more meaningful, more fruitful. Giving of ourselves, we share in the life of Jesus.
There is no way to talk about rising without talking about dying. In the Gospel Jesus speaks about a new life springing from death: "Unless a grain of wheat falls to the ground and dies…" (John 12:24). The season of Lent is about dying and rising. There is a Greek legend about a bird called Phoenix. This colorful bird had a life span of over 1400 years. The Phoenix received new life from a decomposed Phoenix. Reproduction took place when the newborn phoenix emerged from the ashes of the body. No wonder early Christians used the symbol of the Phoenix to explain the cycle of new life emerging from death.
Jesus knew the time of his crucifixion and death was coming, and he spoke about 'the hour.' He used this term 'hour' when he spoke to his mother in Cana saying, "My hour has not yet come" (John 2:4);  he also used the term when the time was close for him to drink the cup of sorrow. He says: "The hour has come for the son of man to be glorified (John 12:23). Jesus knew the hour of his passion and death was going to be painful. He expressed how he felt: "Now my soul is troubled. And what should I say; Father, save me from this hour? No, it is for this reason that I have come to this hour" (John 12:27). He accepted sorrow and death to show there is no other path to glory other than the path of suffering and sacrifice.
George Matheson, a blind preacher sums up our human nature: My God, I have never thanked Thee for my thorn. I have thanked Thee a thousand times for my roses, but not once for my thorns. I have been looking forward to a world where I shall get compensation for my cross, but I have never thought of my cross as itself a present glory. Teach me the glory of my cross; teach me the value of my thorn. Show me that I have climbed to Thee by the path of pain. Show me that my tears have made my rainbow."
The season of lent is a special time to reflect upon the mysteries embedded in the crown of thorns.  To reflect upon the agonizing pains in the Garden of Gethsemane, and to contemplate Jesus' death on the cross. To attain glory, we must go the way of the cross.