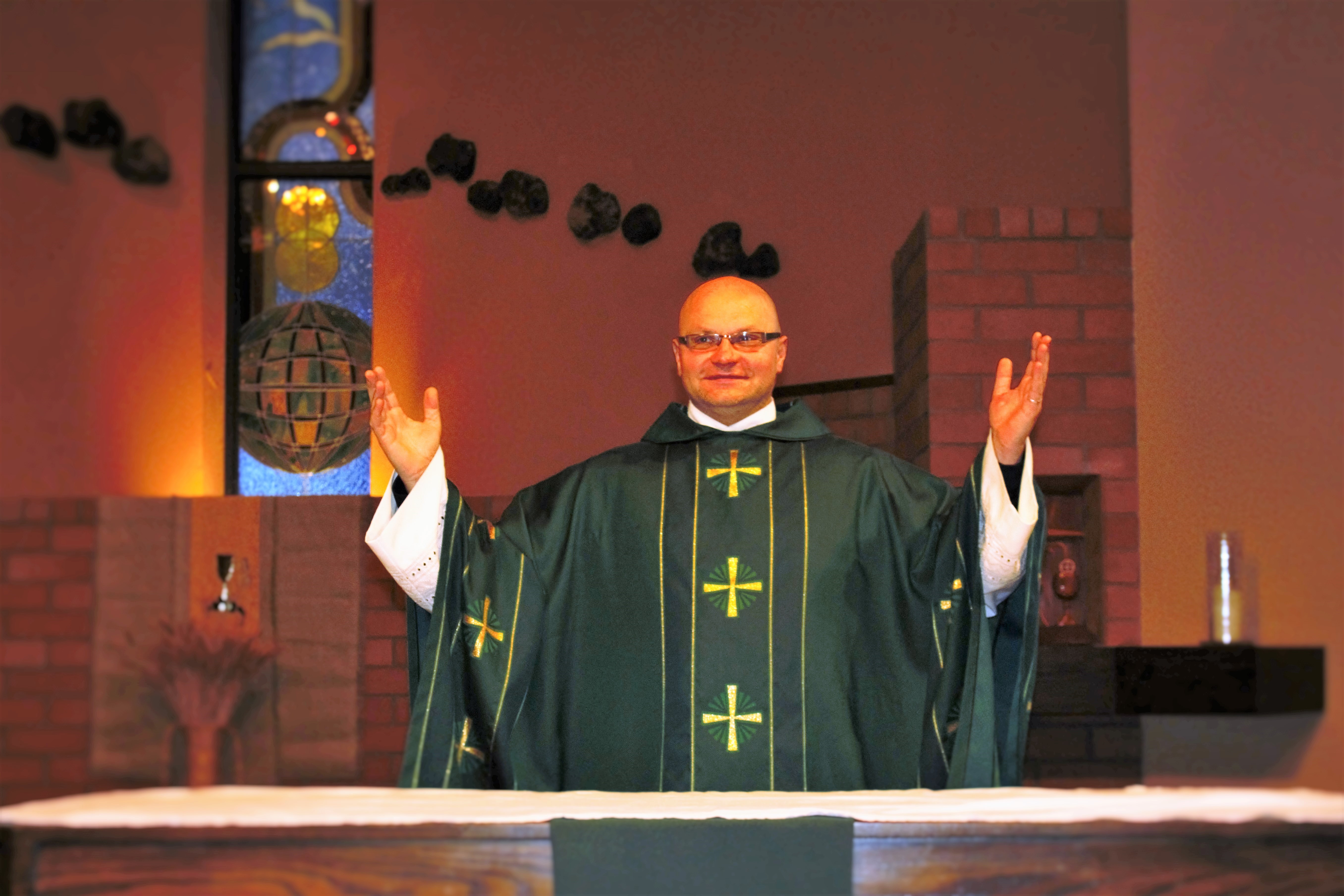 The fourth Sunday of Lent is called "Laetare" Sunday in Latin  it means "rejoice!" In the middle of the serious season of lent the Church invites us to rejoice.
Why does the church invite us in the season of Lent to rejoice? A wonderful story that took place in Mainz, Germany in 1456, when the Bible was printed on the first printing press, can help us with the answer.
Gutenberg, the printer, had a little daughter Alice, who came into the printing press and picked up a discarded sheet. The line of print read: "God loved the world so much that he gave…".  The sentence wasn't complete.  Alice pondered the meaning of the sentence and of God being so loving.  Her face radiated with joy. Her mother noticed her behavior and asked Alice what was making her so happy. Alice showed her mother the paper with the printed line. Her mother read it and said, "So, what did God give?" "I don't know," said Alice, "but if God loved us enough to give us something, then we need not be afraid of Him."
I would like to salute the Pharisee who lived in the time of Jesus, Nicodemus.
Our Gospel today opens with Nicodemus who has gone in search of Jesus. He travels at night in secret because he is one of the leaders of Israel.
The Pharisees were the strongest group among all the groups in Israel. They thought they were better than everyone. They developed a bad reputation because Jesus pointed out many hypocrisies about them.
The Pharisees were supposed to uphold their tradition, but they became full of themselves and so demanding that no one could follow what they preached.
Jesus smiles at Nicodemus when he comes.  He understands that Nicodemus was afraid for his reputation.  He belonged to the Sanhedrin, the leading group of the Israeli people. The Sadducees and the Pharisees ran the country and ran it very strictly.
Nicodemus didn't want to be seen visiting Jesus. Jesus who talked about how the leaders should become more compassionate and loving and caring.
Jesus claimed to be the one to bring Israel back to its roots.  To bring the children of God, the heirs of heaven, to God who loved and cared for them.
The Pharisee Nicodemus asked Jesus what he should do.
And Jesus said, "You must be born again."
He said, "How can I be born again? Must I enter my mother's womb and be born again?"
And Jesus told him, "No. God so loved the world that he gave his only Son,
so that everyone who believes in him might not perish but might have eternal life."
Jesus is telling Nicodemus that to be born again means to open your heart and become one with the Lord, one with God. To accept a new life, not in the flesh, but in the spirit.
This is what we hear and remind ourselves in baptism. In baptism we are born again. We have become one with Jesus. His Father is our Father and the Spirit of God is our spirit.
Nicodemus fell in love with Jesus, and he left a different person.
What happened to him after he left Jesus?
As one of the leaders who articulated the law, he knew that the Pharisees, the Sadducees, and the high priests were plotting to kill Jesus.  Nicodemus defended Jesus and said, "This man has a right to be heard. Every man has a right to come before the Sanhedrin and speak and defend himself."
Very courageous words.  They threatened him. They wanted to destroy Jesus because he upset everything that they thought was important.
So what happened to Nicodemus?
We don't know. But we do know that he remained very close to Jesus.  The next time we find him in the Gospel is when Jesus dies on the cross. Joseph of Arimathea and Nicodemus took the body down from the cross, and Nicodemus laid the body of Jesus in the arms of his mother.
If you see Michelangelo's portrait of taking Jesus down from the cross, you will see in the centre of the picture, a man filled with sadness and sorrow, holding the body of Jesus and bringing him down from the cross to be given to his mother.  This in Nicodemus. There is a belief that he became a disciple and lived his life as a fervent follower of Jesus.
Was he a coward for going to meet Jesus at night?
He was prudent.  As a leader of the Jews, he didn't want anybody to misunderstand.  He wanted to find out who and what Jesus really was. He found out the truth and became a believer. He was a courageous man.  When Jesus was beaten and nailed to the cross, when the whole countryside screamed at him for being a fraud, it was Nicodemus who climbed the cross and brought him down. To Mary's arms and later reposed Jesus body in the tomb.
Nicodemus brought myrrh and spices.  He and Joseph of Arimathea washed the body of Jesus. The two of them wrapped the body of Jesus and put him in his grave.
When we think of our approaching Holy Week, when we think of the ordinary things that we do for Jesus during this time of lent, we should remember that our faith is based on the quiet heroism of particular people.  One of them is a Pharisee who took Jesus from the cross and gave him back to his mother.
I think, during the few weeks left in Lent, we must think of all these people who came and did the kind and compassionate reaching out to Jesus the Lord, and let them become our models. Let them be the ones who lead us thru the second part of Lent.
Today is "Laetare" Sunday and we have one half of Lent to go.
Let us remember the people who were heroic and wonderful and to whom we owe these wonderful stories about the things that they did.
"So, what did God give?"  "if God loved us well enough to give us something, then we need not to be afraid of Him."
God loved the world so much that He gave His Only Son that we might embrace him and with him live for all eternity in His arms.