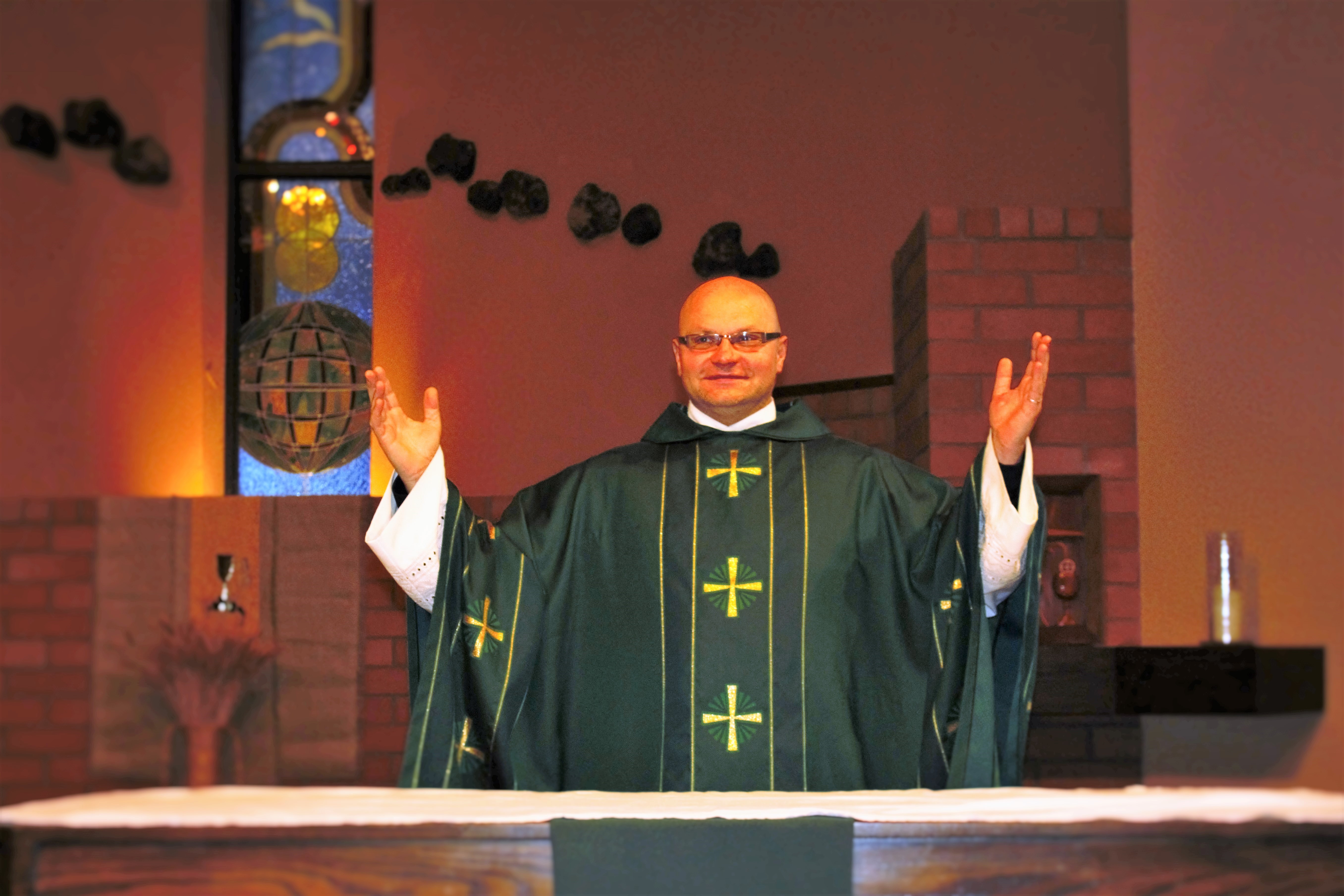 There is a picture I saw on the internet recently. On the picture there is a family with a little baby by the door outside the house knocking to the door. It is dark around and cold outside. You can tell the family is looking for place to stay overnight. They are knocking but nobody seems to hear them! You can see through the window of the house that there is a family inside around the decorated tree unwrapping presents, the television is on there is a chair next to the tree and a man with a white beard dressed in red is sitting there. The family outside looks through the window and they see the whole commotion. They look at each other and the husband says to his wife with surprise expression on his face: "they are busy, they are celebrating something with the old man in red, with a tree, lights and music".
They are "celebrating something" but the Holy family with Jesus is outside this celebration! What they really celebrate? A Santa Clouse?
Just recently I was talking to some young people and they told me they don't celebrate Christmas at all.
They use to they said, in their grandparents home when they were still alive. They have good memories of it, they remember the beautiful atmosphere, dinner and songs, it was so nice and warm and festive but they don't celebrate anymore, they don't see the reason. Christmas is a day like every other day, no reason for celebration they don't understand Christmas or know why you celebrate. They are not religious. They never understood or interiorized religion it was not a priority in their homes. The Bible, Christ, Salvation are the terms they don't understand or know. They don't understand what this excitement of Christmas is all about. They don't even celebrate a Santa Clouse or exchange of gifts because they don't know why,  what is the reason, the meaning, the goal?
And here we are Catholic -Christians coming to the church today with joy and excitement, we sing Christmas Carols, we read the Bible, celebrate Mass and receive the Sacrament of the Eucharist? What is all this about?
We are celebrating birthday of the Lord our God and Savior, somebody who brings us Joy, Happiness, Hope, Faith and Sense to our lives. How beautiful it is to have Christ at the center of Christmas.
If we are not finding our joy and happiness in God we are under an illusion and sooner or later God will give us the painful grace of allowing that illusion to give way to reality. What is the reason to celebrate the birthday party without the Birthday Boy God himself? It doesn't make any sense!
If we believe in God and in his message in the Bible and we believe that we are worthy of God's love and we come to celebrate with him our celebration is not empty but has meaning. we receive true Joy, Hope, Love and Faith!
God is the answer. Only in God can we find true joy and happiness. Those who abandon God are on the road to sorrow and pain lack of meaning and purpose. Some still go with the motions and some don't go at all.
We are, after all is said and done, called by God. For us, as Catholics, we see that a little Child lifts us up to heaven… and heaven, in the birth of that Christ, stoops to earth. The message of Christmas is that the visible material world is now, by the birth of God's Son among us, bound to the invisible spiritual world.
What humans regard as merely material is now invested with the presence of God. It is God's world, not just ours.
From now on happiness is something to do, someone to love, and something to hope for. If you and I can live lives dedicated to making the lives of others a little bit better than they once were, if we can find ourselves in the reality of what is transcendent in life, giving love to the loveless, and being loved in return, and if we can live each day fully in the Presence of Christ this is what we are as Catholics who celebrate the Birth of Christ and who receive Him in Holy Communion.
Someone said the other day there is immunity in community and devastation in isolation. When you come and meet Christ, praise Him and receive Him into your soul, you heart will get a virus of Faith, Love and Hope, your heart will swell with love for God and neighbor.
The child we celebrate today is just a helpless, little child. A child who will dream dreams. A child who will be loved. A child who will be cared for. A child who will grow up and face the world in all its wonder, in all its sadness and in all its sorrow. A child that will feel love and feel rejection. A child who is the Son of God.
And I think that's what Christmas is. The gift of the Father. The gift of love. And we take this love into our hearts and into our lives. And we know that this is what is important: to care for the gift, this child, to give him a place, to make him able to function, even, through our own lives. And this is what Christmas means!
And we ask ourselves today why we are the privileged people who still understand Christmas, the meaning of it and all the celebrations? That we still hear from God today and believe that we are loved and cared for.
God loves who we are, he loves our nature that he became human himself.
We are all walking very closely to the edge of fear uncertainty and doubt, and most of the decisions we make are not made in the light of God and in the happiness of life, they're made out of fear and of the tension that it brings.
How God  should choose such weak, such hopeless, such ordinary people like us to be the light of the world, the saviors of the world, the ones who will do his Father's will?
Because a special love is given to you freely. And you have nothing to fear, for if you put your faith in God's love, everything, whatever happens, will come out for you, and you will be able to carry on the burden that life will lay upon you.
It is we, and our faith that brings the Child to the world. It brings new meaning to our families, to grow with us, to be with us. And it is through the goodness of our own faith, that the love of God is to be radiated out into the whole world.
God calls each and every one of us. He says, "The Child is yours. I put him under your protection, under your guidance, under your love, and it is you who will reveal him to each other."
Baby Jesus is so endlessly fascinating. He captures our heart because he is everything we would like to be, everything we are meant to be.
Friendship with Jesus gives meaning to our lives. It's what we were created for. 'To know him, love him, serve him … and to be happy with him forever.'
This relationship is not easy – it's not a game. You can't play at it at Christmas and Easter Time – it won't work that way. If you hope that somehow you children through osmosis will get it what faith is all about, without religious education, family prayer, talking about faith and practicing your faith by coming to church and receiving Sacraments you are very naive.
Friendship with Jesus is demanding, we have to work at it – it is a total commitment – you can't turn it off and on. For a Catholic it means coming to the Eucharist every Sunday and celebrating with Jesus' other friends. It means being ready to say sorry in the sacrament of Reconciliation when necessary. It means daily family prayer and good works.
It means to give your child an opportunity to come to know Jesus. To fulfill serious responsibility, which you took on when you asked for Baptism for your child.
Our choices have consequences, consequences not limited to events in this life, but consequences with eternal implications. God has offered, we must respond. Everything depends upon the quality of our responses to God's offer, the quality and content of our daily decisions.
God wants to be loved by you, and only you can love God just as you. You matter. God is born for you as baby Jesus. You are important in God's eyes. You are the special object of God's love. You were in God's heart before you were born and you are in God's heart now.
Your birth was significant because Christ's birth was significant. When you look at a picture or a sculpture of Mary holding her Son it should remind you of your mother holding you. There's a message in that image, a message from God telling you about who you really are.
Jesus is not someone else's baby – he is ours; we can't hand him back – he claims us. We can't pack him up in the cupboard after Christmas like the plaster baby in the crib.
Friendship with Jesus calls us to change our ways, our habits, our life; it calls us to be different from the world. It makes us grow "on the inside" and gives healing to our own woundedness. Jesus makes us whole again. He gives life and peace – already here on earth but especially in heaven.
Each Mass is another Christmas. Each Mass is an opportunity for us to be the shepherds who heard the angels on high. Each one of us can follow in their footsteps and thus find Mary and her Son and receive the One she is offering us. How special is that?
At last we are celebrating Christmas in a church. The shopping malls have had their season of sales and the TV shows have given us their programs. Now we are with Joseph and Mary in a church where once again in a few moments God the Son will come to us… this time in Holy Communion.
God has gone to great lengths, infinite lengths, to come to you looking for your love.
You can give God no greater gift this Christmas than to give Him your love in return.
"Merry Christmas!"