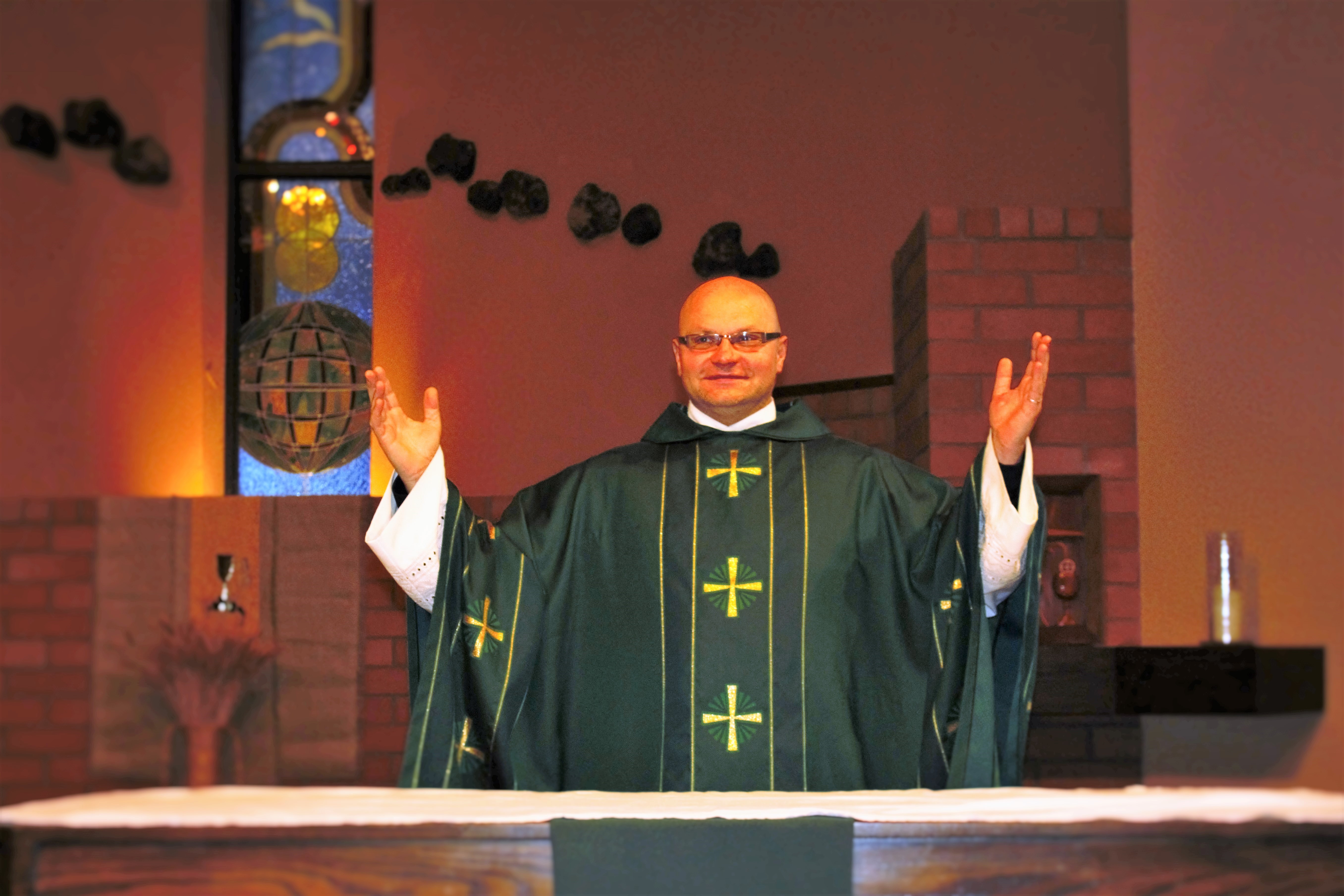 During today's First Reading from the Book of Ezekiel, we learned that those who turn away from their wickedness by doing what is lawful and right, they will be saved. At the same time, those who were previously chosen and saved and who have turned away from their righteousness they will die.
This is a very powerful message. It opposes the belief of many… that as long as they have faith in Christ, they are safe and they will be saved! "As a body without the spirit is dead, so faith without works is dead." So death will come upon all those who do not bear fruit, who do not shine in the world, who do not live their faith day by day.
During today's Second Reading, we heard that when we are of one mind, having the same love as Christ, there is encouragement in Christ. We find consolation during our tribulations. We share in the Spirit. We have compassion and sympathy for others. Our joy is complete in Christ.
The goal of every faithful Christian is to enjoy the same mind that was in Jesus Christ.
Having taken human form in the image of man, He humbled Himself and obeyed His Heavenly Father until the end – even death on the cross. That is perfect obedience to the Divine Will of God!
"Whoever says, 'I have come to know Jesus,' but does not obey His commandments, is a liar, and in such a person the truth does not exist; but whoever obeys His word, truly in this person the love of God has reached perfection. By this we may be sure that we are in Him: whoever says, 'I abide in Him,' ought to walk just as He walked."
During today's reading from the Gospel of Matthew, we heard Jesus tell the story of the man who had two sons. The father asked one of his sons to go and work in the vineyard. His son said that he would not go but he changed his mind and he went. The second son said that he would go but he did not go.
This holy reading from the Scriptures echoes the first reading that I just finished reviewing. Some turn away from their righteousness to do evil while some turn from their evil ways to do righteousness.
The son who promised to go and work in the vineyard, but he did not go, he broke his promise. He was no different than God's chosen people of the Old Testament who broke the Old Covenant. He was no different than the people within the Church today who break the new Covenant of God by turnings away from His righteous ways.
Jesus asked, "Which of the two did the will of his father?" Naturally, we all know that it is the one who obeyed.
Do any of you know that some converts make better Catholics than Catholics who were admitted into the Church as infants? Do any of you want to know why?
It is because, before they joined the Catholic faith, they studied the Sacred Word of God that is found in the Holy Scriptures. They studied the writings of the early Church Fathers during the RCIA classes. They did years of research to prove to themselves beyond any doubt, that what the Holy Catholic and Apostolic Church teaches, it is the One and only Truth.
How many Catholics can we count that have made as much effort to learn about the Will of God and His true Church? Is it not true that many Catholics take their religious belief for granted, slacking off here and there?
How many Catholics seriously take the Word of God?
Let me tell you a true story that I have read a few years ago about a man who had a real bad reputation. While in prison, he found the Lord Jesus in his life. Upon his release, he headed to his small town to settle down, got on his knees and apologized to his mother for all the wrong that he had done to her. Then, he found himself a good girlfriend and moved in with her.
On the following Sunday, he got up early in the morning so he could attend a Catholic Mass. During the sermon, the priest was kicking up a storm while speaking of the sin of fornication. Hearing the tone of the voice of the priest, the new convert said to himself, "Boy, those dudes must be real bad sinners to have displeased the Lord God so much. I will never be a fornicator like them."
After the service, he went to introduce himself and congratulated the priest for his excellent sermon. Having done so, he asked him, "By the way Father, what is a fornicator?" Having been told that it is one who lives in a common-law relationship, the new convert rushed home, packed his girlfriend's baggage and literally threw her out of the house. He did not want to have to face God for having lived the life of a fornicator.
Now, I ask, how many of us would have done the same thing, especially knowing that common-law relationships are offensive to the eyes of God?
How many of us will tell it to our adult children, who are living this way or are only licensed by the justice of peace. We should know that such a way of life totally disregards the sacredness that God has placed within the Sacramental marriage.
Jesus asked, "Which of the two did the will of his father?" I ask who is doing the will of the Father, "Is it the fornicator?" "Is it those who live and behave contrary to the teachings of the Holy Catholic Church?"
Now, what about those who years ago, were baptized and promised to be raised as Catholics, or were married in Catholic Church and promised to live in sacramental life and raise their children in Catholic faith?
Do they expect to be rewarded, without doing what they promised?
We can readily identify with the Gospel, because we are the two sons. How many times in our lives has this situation played out in our own stories? For on some days, we are the ones who speak the right words but don't live them. And still there are other days, when we refuse to do it right no matter what, but later we come to our senses to do the right thing.
Let's look back at the times in our lives, when we've turned away from God. Recall the tension, the guilt and the anxiety.
Have you ever wondered why it hurts so much to be called a hypocrite? It hurts because sometimes it rings true about who we are or what we can be at times. The Gospel helps us to name and to own that there are times we don't live the values expressed by our Catholic Christian faith. There are times that we are not the best witnesses of a God who can change lives. Yet, the beauty of our God is that He continues to call us back to holiness.
The question for us today is:' Do I live like I believe?' Are my words and actions in sync?