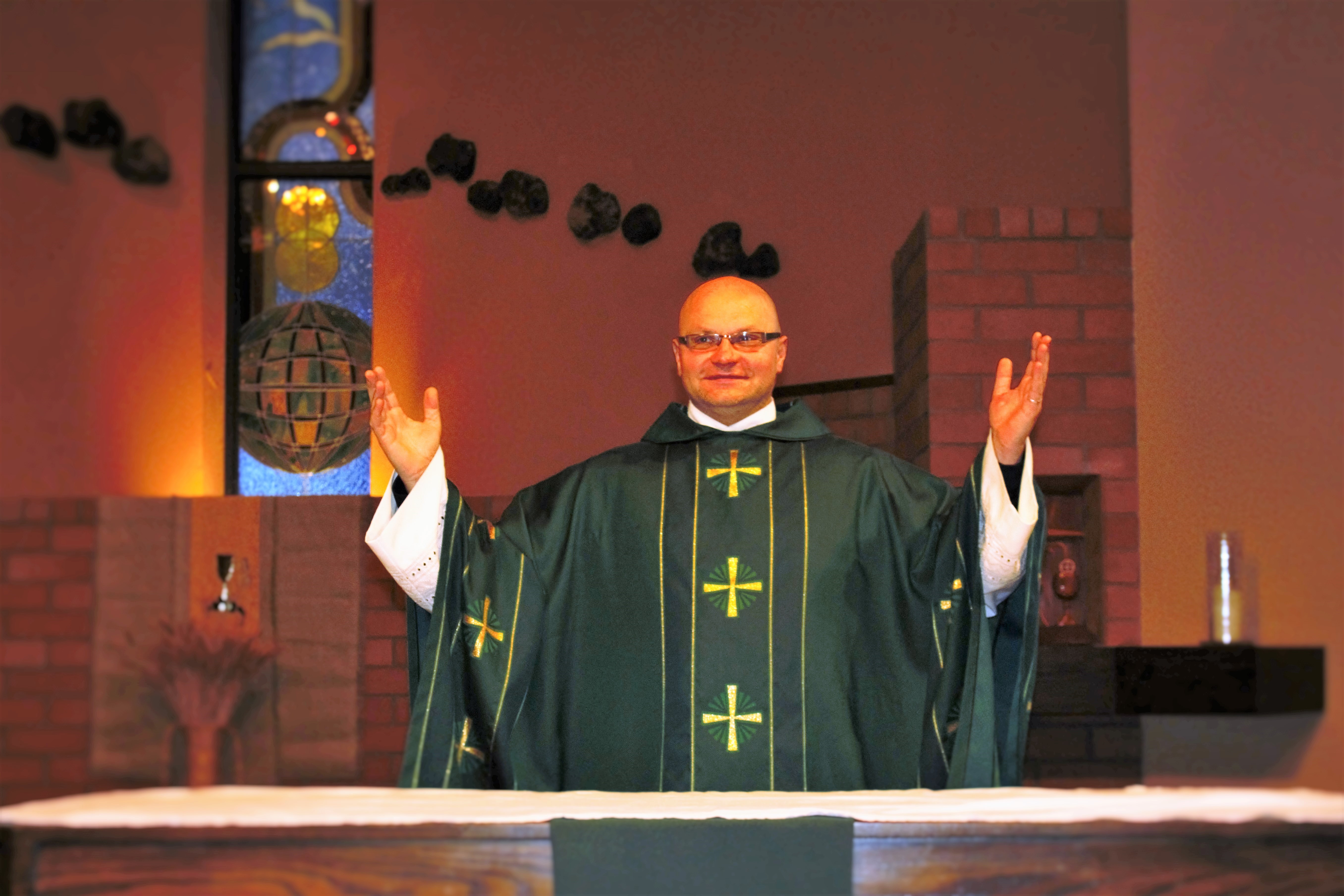 The account of this miracle is recorded in the Gospel so that we, like the disciples in the boat, might bow down before Jesus and acknowledge him to be the Son of God. In fact, all Jesus' words and deeds were done for this reason: so that you may believe that Jesus is the Christ, the Son of God, and that believing this you may have life through his name (Jn 20:31). They were never done for their own sake, nor for his.
But believing is not as easy as it sounds. Some people never begin to believe and others never believe fully. Some believe notionally, with their minds; others have a cultural or sentimental attachment to the Faith.
Even after three years of walking with the Lord, hearing his words and witnessing his miracles first hand some of his disciples, when they saw him, 'hesitated' to fall down before him like the others (Mt 28:17). One of them even betrayed him.
No, it is not easy to believe with: all your heart, with all your soul, with all your strength, and with all your mind (Lk 10:27); but we are working on it – studying with our minds, serving with our strength, praying with our hearts and growing in the divine life within our souls.
For his part Jesus does all he can to make faith in him possible. We could almost say that his miracles are meant to 'establish his credentials' – to catch our attention – to make us take him seriously. This is his great desire; that we come to him and bow down before him as our Lord and Savior.
However, and it is a big however, before we can accept him as our Savior we have to be aware that we need saving or Salvation. This might sound like a flippant thing to say but I assure you it is not. There are some individuals who are totally unaware of this need and find Jesus a puzzling and irrelevant figure on the horizon of their lives.
At any rate, it is clear that every single one of Jesus' miracles are performed so as to heal, to set free, to restore to life – in other words – to save.
Last week five thousand men, not to mention women and children, were saved from hunger. This week it is the disciples saved from a stormy sea. And why? So that they might believe in him, trust him and love him.
So let's look a little more closely at the gospel today.
Firstly, Jesus: made the disciples get into the boat. In other words, they were disciples doing what the Lord commanded. This is important and often overlooked.
The Good Shepherd always looks after his flock but if we deliberately walk away from it we are 'sheep at risk'. Jesus does come looking for us but if we stubbornly refuse him we are seriously at risk.
The disciples were in a small boat at sea.
It was dark.
It was windy, a headwind in fact.
It was a heavy sea.
There were huge waves.
They were battling to make progress.
Suddenly Jesus arrives. How did he find them? How can he walk on water? Our questions can only be answered by the faith he seeks to nurture in us. He comforts them: Courage! It is I! Do not be afraid.

It is I. These three words are the answer to all our questions. It is Jesus. The one who sets prisoners free, who feeds the hungry, cures the leper, gives sight to the blind, hearing to the deaf, who calms the sea, raises the dead.
It is I, says Jesus, and I want you to come to me, even across the stormy, unpredictable, scary waters of your life. Give me your faith; I will make it strong. Trust me, believe in me. It is I; the One you are looking for. Let me save you. Say yes, and then live your yes as best you can, and I will save you.
We can be so wrapped up in the things of the world that we reduce God and try to keep Him far away, abstract and distant. And our souls are restless and unhappy. We need to encounter Christ Jesus each and every day. From the first moment we awake we should resolve with all our hearts to desire to recognize Jesus Christ present in our lives.
In commenting about today's Gospel passage, St. Augustine wonderfully summarizes the life of the Catholic Christian, "If you love God you will have power to walk upon the waters, and all the world's swell and turmoil will remain beneath your feet. But if you love the world it will surely engulf you, for it always devours its lovers, never sustains them. . . . if, in a world, you begin to sink, call for the Lord and say: Lord, I am drowning, save me, please!"