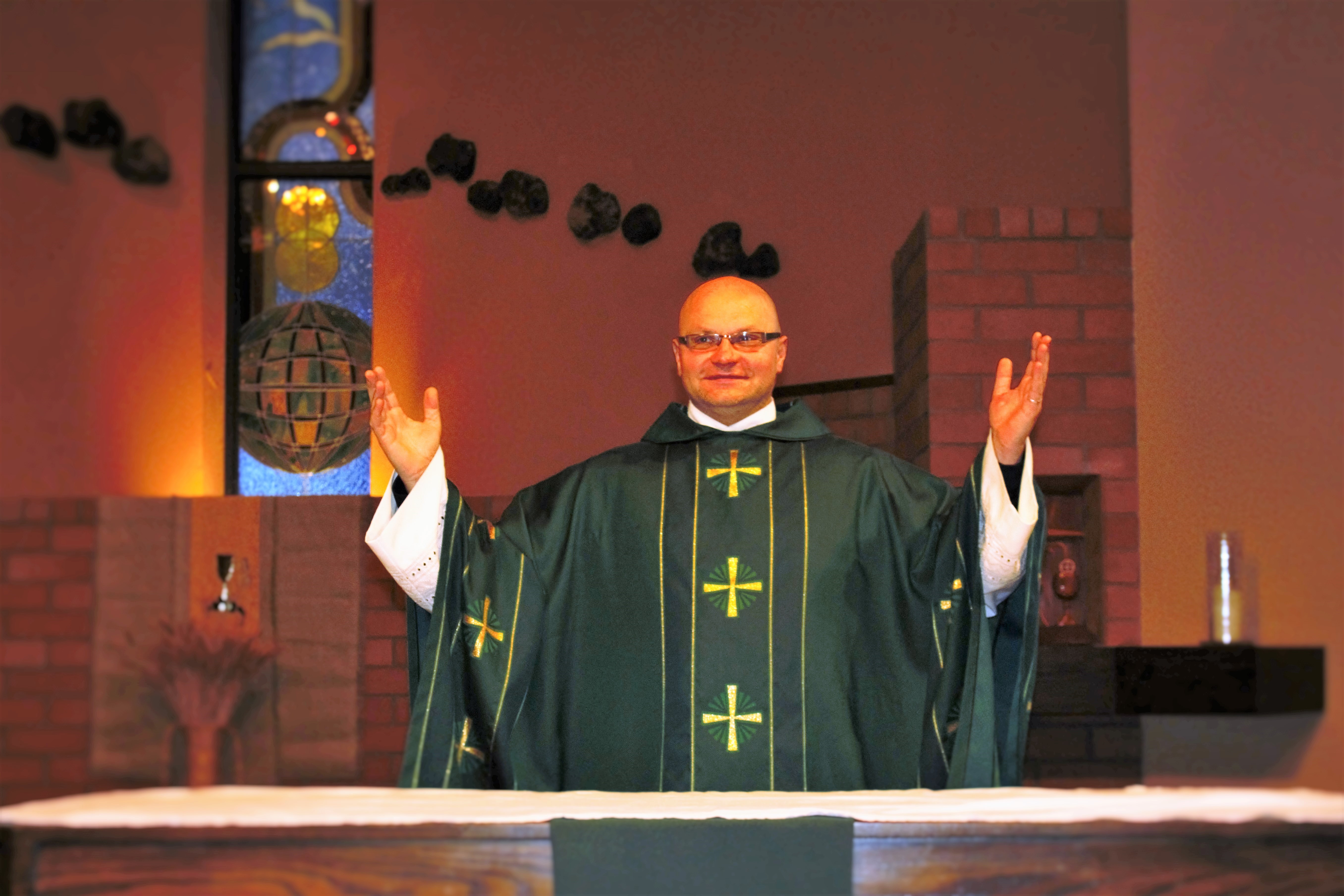 Today's Reading from the Gospel of Matthew, [Mt. 15:21-28] the account of Jesus and the Canaanite woman, is one of the rare encounters of Jesus with Gentiles. As you all heard earlier, when Jesus went to the district of Tyre and Sidon, [Mt. 15:21] in Southern Phoenicia, He was approached by a woman who abounded in love for her daughter who was tormented by a demon. [Mt. 15:22] Most likely have heard of the great miracles that Jesus was performing towards the Jewish people, this Canaanite woman took it upon herself to personally locate Jesus and to beg His mercy on her.
What is unusual about this event is that the woman was a Canaanite; the Canaanites were viewed as a very sinful race that embodied every possible evil and godlessness. The Canaanites were viewed as a nation that was to be exterminated. It was not the general practice for the Jewish people to mix with the Samaritans; also, it was not the general practice for them to mix with the Canaanites. So what was Jesus to do when He was approached by a race that was avoided by the Jewish people?
At first, he ignored her. He did not answer her at all. [Mt. 15:23] The more Jesus ignored her, the more the woman shouted, "Lord, Son of David, have mercy on me!" The more the woman shouted, the more the disciples of Jesus were getting annoyed and urged Jesus to send her away so she will stop shouting. [Mt. 15:23] In this particular case, when the disciples were urging Jesus to dismiss the woman, this was not a request to just get rid of her. Based on the exact meaning of the original writing of this passage of the Holy Scripture, their request was for Jesus to dismiss the woman by granting her petition.
To this, Jesus answered, "I was sent only to the lost sheep of the house of Israel." [Mt. 15:24] How harsh these words must have sounded to the woman. It was like saying to her, "God's mercy is only for my people, the Palestinians. You are a Canaanite; go away!"
The determined lady knew a good thing when she saw it and she was not about to give up on Jesus. She threw herself at His feet and repeated herself, "Lord, help me." [Mt. 15:25] Jesus responded, "It is not fair to take the children's food and throw it to the dogs." [Mt. 15:26] To this, she answered, "Yes, Lord, yet even the dogs eat the crumbs that fall from their master's table." [Mt. 15:27] Seeing how great her faith was, she having remarkably persisted, Jesus told her, "Woman, great is your faith! Let it be done for you as you wish. And her daughter was healed instantly." [Mt. 15:28]
The conversation that took place between Jesus and the Canaanite woman is an example of dialogues that are admired in the Near East. Many refer to this type of dialogue as wisdom. Why wisdom? Because it requires a certain ability to match a riddle with a riddle, a wise saying with another wise saying, an insult with another insult, or as in the case of today's Reading, to turn an insult into a commitment.
By granting favor to the persistent woman, Jesus affirmed that He had been sent to institute "a house of prayer for all people." His Kingdom that is on earth now and that is to come was not meant for only one people; it was meant for all the nations. While Saint Paul played a key role in the admission of the Gentiles into the Catholic Church, Jesus had given signs in His ministry that this was to be fulfilled.
I was once called to the bedside of dying man in his seventies. His daughter kept vigil by his bed and clearly he had but a few hours of life left. She was not Catholic and neither was her father. Not a Canaanite woman as in today's gospel, but a pagan nonetheless. She asked me to baptize her father.
It was an awkward moment for me as I felt I might have been guilty of taking advantage of his helplessness man by baptizing him. 'He's had more than seventy years to be baptized' I suggested, 'isn't it a bit unfair to do it now when he is unconscious?'
'But he always wanted to be a Catholic, it's just that he could never bring himself to approach a priest. That's just the way he was.'
I was still reluctant. I had passed that bed a number of times over the days he was in hospital and had never been asked to baptize him.
Then a strange thing happened. The woman at the bed came and stood in front of me, looking into my face. 'Look,' she said, 'I'm telling you my father wanted to be a Catholic but because he was a dysfunctional kind of person he was never able to get round to it. Now I'm asking you to baptize him.'
My response took me completely by surprise. I felt a great surge of admiration for that woman.
The man was baptized and confirmed and passed away a few hours later. A few months later the woman came to the parish office and said, 'Now it's my turn to become a Catholic.'
Such episodes in a priest's life are very important, very meaningful. They set in train a process of reflection, which can go on for years.
It was when we read the gospel of the feeding of the five thousand that this woman came back to my mind, and now again today. What caused me to think of her then were those twelve baskets of scraps left over from the meal. What was going to happen to them? Who was going to eat them? The children of Israel had been fed, their stomachs were full, so were those baskets of food left over to be just thrown away? Unthinkable!
In my mind's eye I saw those baskets and each of them had a sign "For the gentiles".
Indeed, the very existence of those scraps was a foreshadowing of the ministry to the gentiles; as were the stone jars of wine left over from the wedding feast of Cana. Talking this over with a friend he said 'That Canaanite woman was looking for those scraps!'
Jesus must have known that to make himself present there, so close to pagan territory, would inevitably 'draw out' the pagans; and it could not have been a surprise when:  a Canaanite woman from that district came out …
Jesus well understood that he was sent by the Father to the People of Israel as their long-awaited and promised Savior. As he tells the woman: I was sent only to the lost sheep of the House of Israel. What the woman did was make plain the truth that implicit in his mission was a necessary openness to the entire world. This fact needed to be firmly established in the minds of his disciples if the newborn Church was ever to undertake her mission to the pagans.
Besides, the woman's daughter was 'tormented by a devil'. Is the devil more interested in the pagans than the Lord? Does the Savior of the world intend to save only the Jews, or the Catholics? Certainly not! He came through the Jews but he came for all the nations.