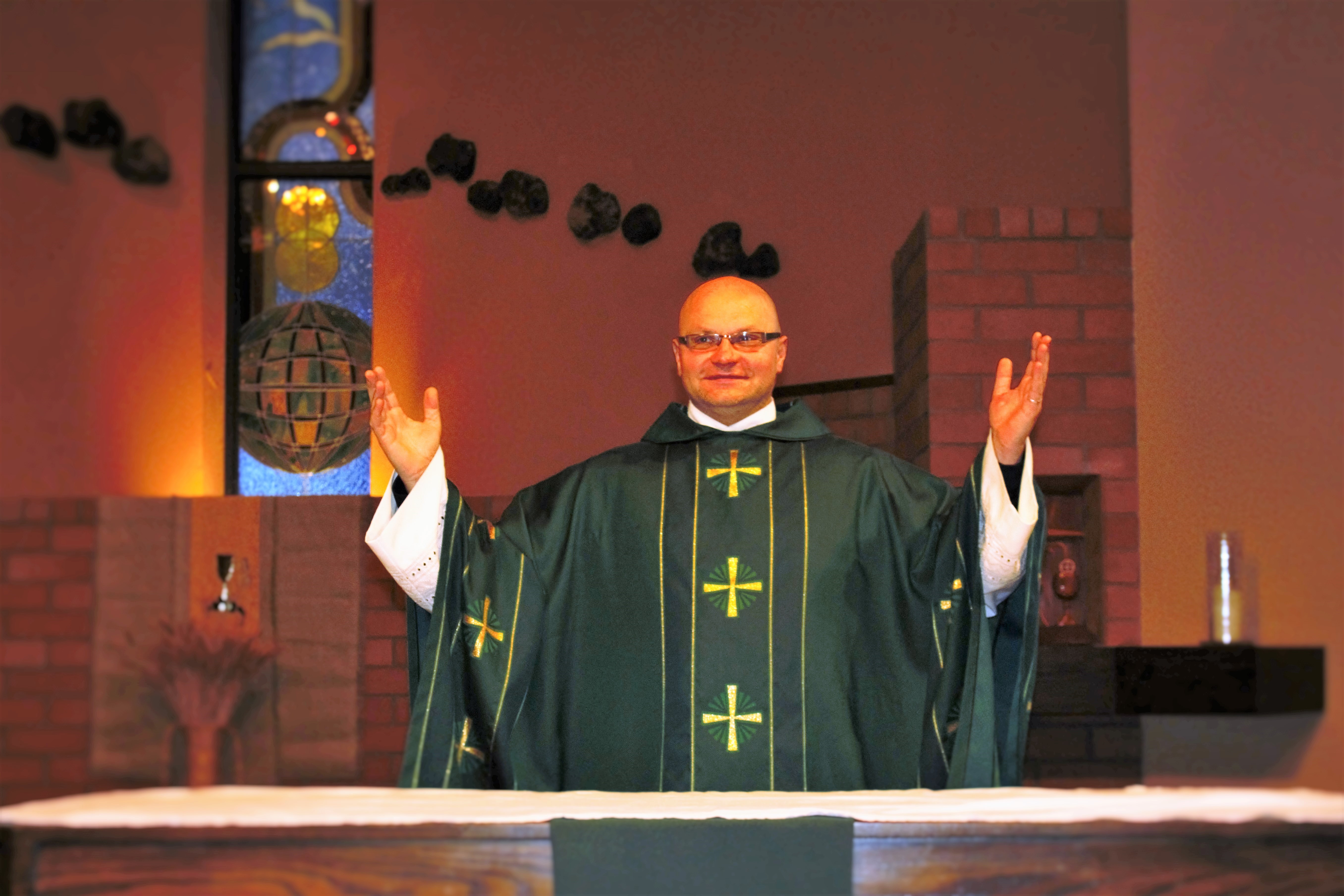 Did you ever have a bad weekend? Just think what kind of weekend the apostles had on that first Easter weekend. They must have been suffering from a severe dose of depression since Good Friday. Jesus was dead. The crowd that welcomed Jesus with palms as he entered Jerusalem turned against him on Good Friday morning calling for the release of Barabbas and the death of Jesus. The apostles, now afraid of the crowd, had shut themselves in for their own protection as we heard in the Gospel. There were ten of them gathered in this state; Judas was no more and Thomas was temporarily absent. Jesus came with his healing, "Peace be with you." And how much peace they must have felt within now! As well as shock and doubts. But this meeting with the risen Jesus certainly brought peace to their troubled minds and hearts. That was Easter Sunday evening, the crisis was over, but what a long three days it had been since Friday morning.
Thomas comes back then and they tell him Jesus is alive, they have seen him. Jesus came in even though the doors were all locked. Thomas thinks this is adding insult to injury. You can imagine what he would have said to them. "You saw his body when it was taken down from the cross. You know he was not breathing. You know there was no blood left in his body; you know his heart had been pierced with the soldier's lance. You are all raving. It's getting to you. Get a grip on yourselves!" We heard in our Gospel that Thomas demanded proof, "Unless I see the holes that the nails made in his hands and can put my finger into the holes they made, and unless I can put my hand into his side, I refuse to believe."
What has happened now? Now there is division among the apostles. Ten know Jesus is alive. The eleventh, Thomas, is stubborn and refuses to believe. Thomas does not have faith yet and he is relying on reason alone but when Thomas will see Jesus in a week he will believe and faith and reason will be perfectly aligned in Thomas. The division among the apostles is like the division in any family between those who have faith and reason in perfect harmony and those whose faith and reason are out of sync. Those with faith and reason in sync try to help the others to come to greater faith in Jesus. And they get a negative response from a modern day Thomas who might say something like, "If you force me I won't go to Mass." And Thomas, ancient or contemporary, remains in his sad state. If Thomas had been sensitive enough he would surely have noticed that the ten have great peace now, they are not the same as when he left earlier. But Thomas, ancient and modern, considers himself a big, strong, thinker. He has no time for what he thinks is silly sissy stuff. He wants a scientific proof for God and fails to realize that there does not have to be any conflict between faith and science, or between faith and reason. Thomas has yet to learn that faith and reason/logic/science are meant to be in harmony.
The following Sunday Jesus came again even though the doors were closed. Again Jesus wished them peace and provided Thomas with the proof that his reason and logic and desire for a scientific answer needed, "Put your finger here: look, here are my hands. Give me your hand; put it into my side. Doubt no longer but believe." Thomas replied, "My Lord and my God." Now faith and reason are perfectly aligned in Thomas, faith and science are in synchronization and Thomas has seen Jesus.
He shut Jesus out of his life for one week. All it takes to meet Jesus is to allow our reason/logic to work together with our faith. So we make that act of faith in God. Surrender into the hands of a loving God. You have nothing to lose but everything to gain. A beautiful chant about trust in God goes like this, "Jesus I trust in you" When Thomas saw the risen Jesus on the Sunday after Easter Sunday, he trusted, surrendered and believed. Then he received Jesus. It is the same with each of us. Trust in Jesus, surrender, believe, and you will receive a joy that you will not get from anything or anybody else. Thomas had wasted a week, but Jesus in his mercy came to him, gave him his chance. We do not want to waste a lifetime. If you haven't yet met the risen Jesus, roll away the stone and meet Jesus. Allow faith to work together in harmony with your reason and logic.
Today is "Divine Mercy Sunday." It was instituted by Pope John Paul II on May 5th twelve years ago.
Most of us are familiar with the origin of the Divine Mercy Devotion: Back in 1931, a young Polish nun, Sr. Faustina Kowalska, saw a vision of Jesus with two rays of light coming out of his heart. Jesus told her to have a painting produced replicating the vision, and to have it signed, "Jesus, I trust in you!"
Over the next 7 years, the Lord gave Faustina numerous private revelations concerning his merciful love. These she recorded in a diary, as Jesus had instructed her to do. Fr. George Kosicki—an authority on the Divine Mercy devotion—has said that through these revelations, "Jesus taught the young nun that his mercy is unlimited and available even to the greatest sinners. He revealed special ways for people to respond to his mercy in their lives, and he gave her several promises for those who would trust his mercy and show mercy to others."
On April 30th twelve years ago, Faustina was canonized a saint by Pope John Paul II in Rome.
Mercy is something we all experience as Catholics. For example, the very fact that we are baptized is an act of God's mercy. Perhaps we've never thought of that before, but it's true nonetheless. In baptism we receive new life in Jesus Christ, and no one of us deserves it! As the Catechism teaches, no human being can merit the initial grace of salvation; it's given to us only because of God's love and mercy.
And as we go through life, we continually need mercy, because we are sinners—and we never cease to be sinners. And for us Catholics that mercy is so easily received—the simple act of humbly entering a confessional and honestly confessing our sins brings us the gift. That's why it's so fitting that this Sunday has been declared Mercy Sunday: this is the day when we read the text from John's Gospel which Jesus appears to his apostles and says to them, "Whose sins you forgive are forgiven them, and whose sins you retain are retained."
If someone ever asks you, "Where do you Catholics get your biblical justification for the sacrament of Confession?" take him to this text of Scripture and read it to him. The ordinary Catholic in the pews is so terribly confused about Sacrament of reconciliation/ confession and some have not been for confession many years. There are all sorts of errors and misconceptions spread about this wonderful and essential sacrament and the biggest and most horrible one of all is that it is no longer necessary. 'Oh, you can just tell Jesus privately that you are sorry for your sins and he forgives them. No need to go to the priest. Tell Jesus direct!' This is pure Protestant teaching. This is not the faith of the Catholic Church!
If you truly believe this lie then you have stopped being a Catholic; you are saying the Church has only six sacraments instead of seven and you have placed yourself outside the Church – and that's not a good place to be.
Confession was Jesus' idea—and he gives it to us out of his mercy.
Now if it all ended there the Christian life would be fairly easy—because it would simply be a matter of continually receiving his mercy. But there is one thing the Lord asks of us who have been gifted—and are continually gifted—with mercy. He says, "You must now show mercy to your brothers and sisters."
Let us think today on this Mercy Sunday how much mercy God gives us everyday of our life and how merciful we are to our brothers and sisters.