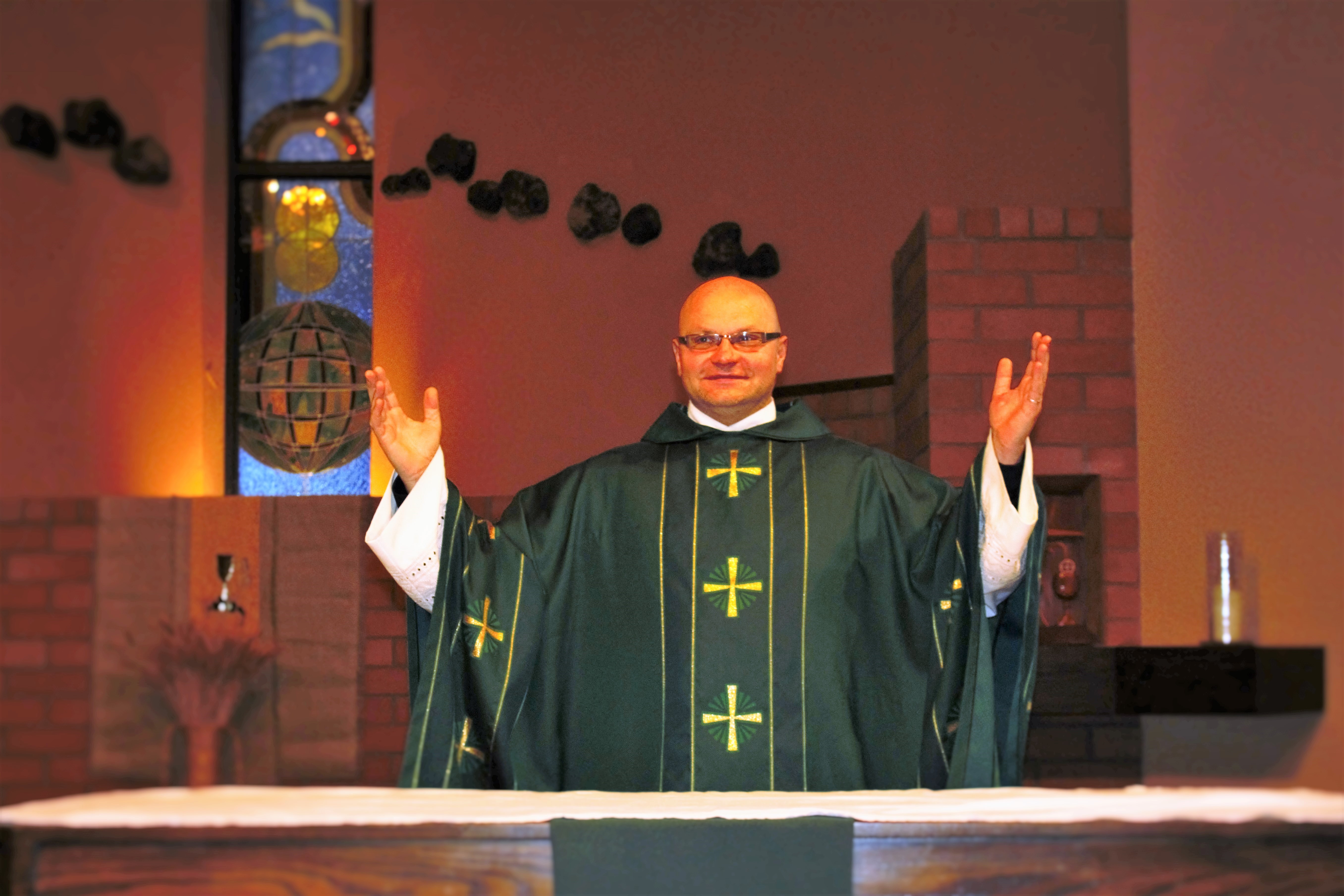 Today the curtains open on a well, a particularly good well, full of cool, clear, drinkable water – Jacob's well.
At the well Jesus. Tired by the journey he sits straight down by the well. It was about noon. A Samaritan woman comes to the well. She has come to draw water.
First let's look at Jesus for a bit: A man in his thirties, long hair, beard. He is hot and sweaty, tired from the journey, that's why he sits straight down by the well. He is alone because his disciples have gone into town to buy food.
How wonderful to look at him, to watch him – the Master! He is exhausted but recollected, focused and peaceful. Is he thirsty? He must be. We are told it was about the sixth hour, that is, about noon, the thirsty time of the day.
There was only ever one other time he admitted to being thirsty – that was on the Cross – when he moaned, I thirst! – But he wouldn't drink. He was thirsting for more than water. He was thirsting for souls.
It is this Jesus who now sits by the well, the one who thirsts more for human hearts and their salvation than for water.
Now let's look at the Samaritan woman who has come to draw water. Not old, attractive, perhaps a little brazen. She has had five husbands and was living with a sixth man. Obviously she has been drawing from a different well altogether, searching for something, happiness or maybe the perfect man. Little does she realize he is now sitting opposite her – deeply in love with her, thirsting for her.
This woman makes one realize once again that we may look for things that will not bring us what we want or that sin is only the search for true happiness, true peace, true love, true fulfillment – but in the wrong place and in the wrong way – and we should be very slow, to judge anyone. The soul of this woman, too, is thirsting for the truth.
Jesus doesn't ask, he tells her: Give me a drink. If only she had realized that she herself was the 'drink' Jesus was looking for.
The woman is taken back. 'What? You are a Jew and you ask me, a Samaritan, for a drink?' – Jews, in fact, do not associate with Samaritans.
Poor woman, like so many others she has no idea who Jesus is?
How often do we find ourselves in the same situation, dying of thirst? Jesus knew this woman better than she knew herself. He wanted to offer her the water that would quench her thirst forever. How often do we look into a refrigerator that's full and mumble that there's nothing to eat. We scan through a couple hundred stations on the TV and complain that there's nothing on. We, like the Samaritan woman, are starving. We search endlessly for something that will satisfy our very soul but don't' find it. That's the catch. Earthly things were never meant to fulfill us. They simply sustain us. A couple of weeks ago we heard about Peter, James, and John catching more fish than their boats could hold. It was incredible. What did they do? They left everything and followed Jesus.
Jesus makes no sense at all if you don't know who he is.
So he replies: If you only knew what God is offering and who it is that is saying to you: Give me a drink …
At the mention of living water the woman is all ears but not yet on his wavelength. It takes us all a while to 'tune in' to Jesus – we must be patient – with ourselves and with others.
'Sir,' said the woman 'give me some of that water, so that I may never get thirsty and never have to come here again to draw water.'
We smile at the woman's simplicity but Jesus is not put off.
Christ knows us better than we could ever know ourselves. We are God's creation. Jesus says, "I am the way, the truth, and the life." Life isn't found or defined in things. Over the course of my time as a priest I've had many opportunities to serve at funerals. I've never heard people talk about the successes in the professional world. They talk about love and relationships and kindness.
Mother Teresa used to say: People are so hungry for God.
How true this is in my experience also! Most people, the overwhelming majority, have a hunger for God deep within their hearts, even when they loudly refuse to admit this is true. Then they are like the man with clenched fist and white knuckles who loudly protests: I am not angry. All one can say – quietly, reverently, firmly is – Yes you are!
Jesus can see the need within the Samaritan woman as well as her basic honesty.
Go and call your husband. – I have no husband.
The Lord fills in the details, showing the woman her life is known to him, and compliments her on her honesty: You are right … you spoke the truth … .
A moment later he reveals to her that he is the Messiah.
It seems Jesus didn't get the drink he asked for, or did he? Although the woman is not yet fully convinced of his identity – I wonder if he is the Christ? – She has clearly set out on the path to faith and manages to bring the whole town to the Lord.
The Samaritan townspeople return with her to meet Jesus for themselves, and many are said to come to believe in him. He must have been pleased.
The significance of the encounter between Jesus and the Samaritan woman has many levels.
The first is personal: The woman is herself converted to belief in Jesus as Messiah because he knows her sin but speaks with her just the same.
The second is social: Having come to know Jesus as the Messiah, the Samaritan woman becomes an evangelist to her own people.
The third level of the story is educational: Jesus uses his encounter with the Samaritan woman to teach his disciples that God's mercy is without limit. The disciples are quite confused to find Jesus talking with a Samaritan, and a woman at that! But the conversion of the Samaritan townspeople is a foretaste of the kind of open community that will be created among those who believe that Jesus is the Messiah.
We may rightly hope that God's grace, and her basic love for truth and her thirst for fulfillment, would eventually bring her conversion to full maturity.
The Gospel leaves us pondering deep questions – God's insatiable love for us, the maturity of our love for God. Do we have, metaphorically speaking, 'five husbands' in our lives, holding us back from full discipleship?
Lent, above all, is a time for discovering their names, and sending them on their way. Only then will the 'living water' of God's love flow into our lives.
This is a time for all of us to spend some time scrutinizing our lives. Lent is a time of fasting, prayer, and reconciling ourselves with God. So often we lie to ourselves and to each other. We don't want to look into that mirror and see our shortcomings. I don't. At first glance everything is just fine, but looking a little closer I see how I really look. Just like the woman at the well, we're all looking for something. We live in real and spiritual desert.
We're looking for something that will quench our thirst. Christ said, "Whoever drinks the water I shall give will never thirst; the water I shall give will become in him a spring of water welling up to eternal life." Pope Francis has declared this a year of Mercy. During this Lenten season it's a time to take advantage of the sacrament of reconciliation to cleanse ourselves of our sins. Like the woman at the well who had failed so many times but kept searching, we too can start anew.