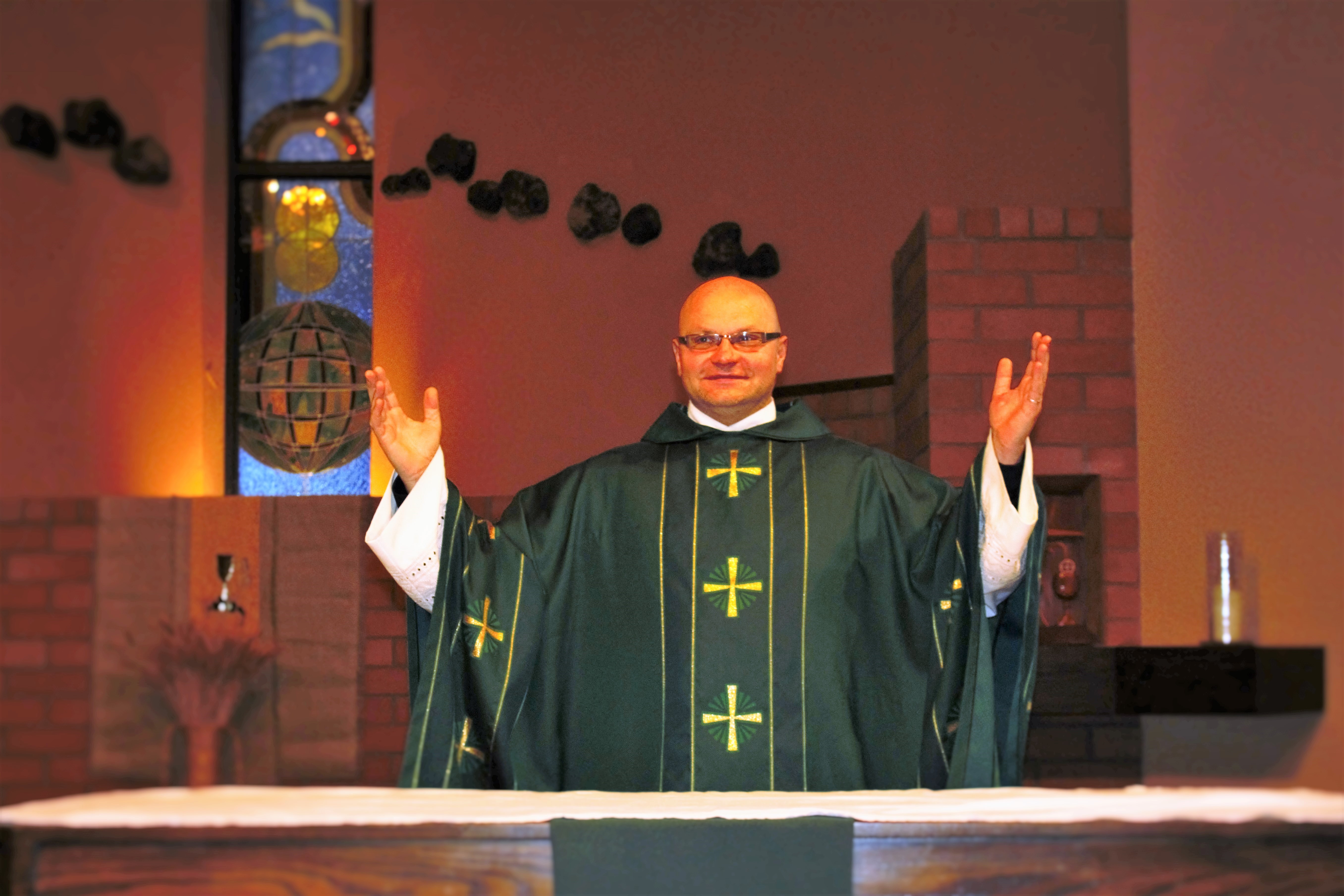 Happy Church New Year!
As we begin a new Church Year, we begin a cycle of readings from the Gospel of St. Matthew.  This means that all year we will read through the Gospel of Matthew, though sometimes we will also read some of John's Gospel.  Since there are three cycles in the Church's readings – we read Matthew one year, Mark, the next and Luke the third.  John doesn't have a year to himself and so some of that Gospel is interspersed in all three years.
Matthew's Gospel has a strong Jewish flavor.  It was probably written for a community of Jewish Christians. Each Gospel has a unique style and a different theological insight. Each of the Gospels sees Jesus mission in a different way. Because it was written for Jews, Matthew's Gospel has an infancy story which traces Jesus' Jewish lineage.  Mark's Gospel doesn't. However, Matthew is not writing a biography which we might think he is doing today because he begins with lineage and a birth story. Matthew very much has a point of view and arranges material – both events and teachings – in a particular order that suits his theological purpose. The themes and motifs that Matthew presents are true, and are illustrated by his choices of things that happened or were said in Jesus' life time.
There are things that I hope to point out to you throughout the year that may help to put all this into a theological perspective.
For example, Matthew loves to do things in threes. There are three divisions in the genealogy, three temptations, three seed parables, the denials of Jesus and so on.  In fact there are 38 things that are in threes. For Matthew it is a way of organizing and stressing the importance of things.
So what will we see in Matthew over all? Well, there are three things! Surprised?
First, Matthew stresses that Jesus is the Messiah that was foretold by the Jewish prophets. Secondly, Matthew stresses that because of their sins, the Jewish nation will not have a part in the kingdom. Finally, he will stress that the Gospel will be announced and opened up to all nations and everyone, not just a small group is called to salvation.
Because it is Advent and Advent is a time of preparation, it brings with it its own themes, and so we do not start off the year at the beginning of the Gospel of Matthew, but rather closer to the end.  Just as the end of the previous year talked about the end of the world, followed by Christ the King's victory over the world, we begin the new year reminding us of the same thing. We jump today to Matthew's description, not of the end of time per se, but the fact that we do not know when the end of time is going to be. We obviously want to be ready for the end of time, we want to live lives which will be looked upon favorably when the end of time come, and so, we live in the knowledge that there will be an end of time – a time when the Son of Man will be coming. However, nobody knows when that will be.  It is up to the Father to decide. In any case it will keep at a time when we don't expect it, just as many of our own personal deaths will come. The attitude we should have is that our life is given as gift to us from God. We accepted this gift, we are happy and enjoy the gift, but one day we will have to give this gift and what we have done with it back to God. We don't have control over how long we live. What we have control over is what kind of life we live. How grateful and appreciative we are to God for this beautiful gift. Even knowing that we will die, we are thankful for the opportunity to have this life and knowing God we hope to have even more beautiful gift of life in eternity. God is a giver of life and love, he is ready to give us even more than we could imagine!
The reference to Noah is meant to be a positive one.  Noah is saved because he was faithful to God in contrast to the people around him who had not morality or belief in God.
The main reason that this reading has been chosen by the Church is expressed in the lines "Keep awake, therefore…" In the Gospel of Matthew this becomes a central theme in three ways – there's that three again! Past, present and future. First, the past: Jerusalem was not following the will of God and so it will be destroyed. The Apostles are told to leave it before this happened. Now since this had already happened when Luke wrote, it becomes a proof of Jesus as prophet as well, just as in Luke. Secondly, in the present, this passage is meant as sacramental – that Jesus comes again in the Eucharist at each Mass we celebrate, and we must keep ourselves worthy and receptive to this coming. Lastly, in the future, Jesus will come again in glory and we must continue in our faith and good works in preparation for that time because we have no idea when that will be.
It is understood in Catholic theology that what Jesus is really talking about in the end chapters of Matthew is the destruction of the Temple in Jerusalem.  And he talks about this because it represents the end of the Old Covenant that God had made. The new Temple is the Church, and it is not built with stones that can be destroyed but with 'living stones' – you and me. Matthew, then, is not so much concerned with the end of the world, but more the end of the Hebrew Testament world. And we need to watch, keep awake, keep our eyes open so that this new Temple of the Church can flourish, be faithful to God and be a home for the Spirit. We are not to let our house be broken into.
This is all made more clear in the second reading today from St. Paul who makes practical the theory. "Now" is "the moment for you to wake from sleep", he says.  We are to lay aside the works of darkness and put on the armor of light. We are to live honorably and to 'put on' the Lord Jesus Christ. We should not spend our days in partying and drunkenness, in immorality or in gossip and quarreling.  We need to look at the larger picture and prepare ourselves for the long term when we go rejoicing to the house of the Lord, as the psalm says.
Finally, I want to talk about the beautiful image of light which Paul mentioned and the image as it is expressed by the prophet Isaiah. "Let us walk in the light of the Lord" says Isaiah. This introduces us to one of the dominant images of Advent – the difference between light and darkness.
Each day now before December 21, the day gets darker and darker. At Christmas it will begin to get lighter and lighter each day. This fact was not lost on the people who put together the Church year and chose our readings for us. We are much in darkness now.  Before Jesus came, we were a people of darkness.  But with the coming of Jesus, the Incarnation, God becoming a person, we have been shown the light, and the kingdom of God.
Let us rejoice then, and not panic over the readings today as so many have. We are the people of the light, we are the people who put on Jesus, and we are the people that he will come for, whenever that may be.
Let this sustain us, let this strengthen us, let this be the way we live our week this week.