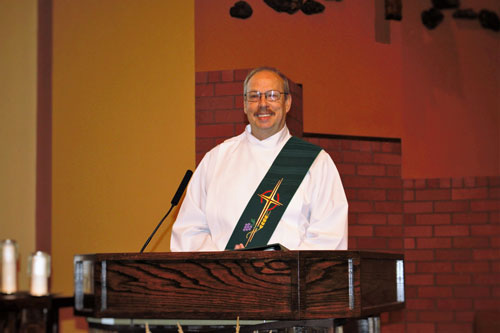 Today's Liturgy tells us that "tax collectors and sinners were all drawing near to hear Jesus speak" (Luke 15:1).  Not just a few, but "ALL".  The poor, the sick, and the lame were universally attracted to Jesus because he offered hope.
The scribes and Pharisees took great offense at Jesus because he went out of his way to meet with tax collectors and sinners.  He treated them like they were his friends.  Wealthy tax collectors were despised by the Jews because they often forced the people to pay much more than was due.  And sinners, like prostitutes and adulterers, were a scandal to public decency.  Jesus does not argue that he is eating with sinners, his argument is that he has called them to God and they have come.
Those who object to Jesus' ministry complain, "This man welcomes sinners and eats with them."  If Jesus had just collected food to give to them, that would have been called charity. Then the Pharisees and scribes would have called him a kind and good person.  But Jesus hosted tax collectors and sinners, up close.  They drew near and he did not back away for fear of being contaminated by them.  This holy man would sit and eat with those others considered unholy people!
Why were many tax collectors and sinners drawn to Jesus?  Jesus offered them "forgiveness, mercy, healing, and the promise of being with God the Father In heaven."  When the Pharisees began to question Jesus' motive and practice of associating with sinners of ill-repute, Jesus responds by giving them a three-fold lesson in the parables of a shepherd rejoicing over finding a lost sheep; a housewife rejoicing over finding a lost coin; and a father rejoicing over the return of his lost son (Luke 15:4-32).
Did you notice the word that appears in both stories… a little word you might have missed, but packed with meaning?  The word is "until."  Both the shepherd and the woman search "until" they find what they were looking for.  In the shepherd's case the search seems reckless to us.  When Jesus asked which one of his listeners would leave the 99 sheep in the desert to go looking for the lost one, you can be assured the response he got would be the one we would give… "No prudent shepherd would do such a foolish thing."  And when he asks the question about the one lost coin, any of us who have lost something, might have responded to Jesus, "Well, after a good search, I would have other things to do and would just give up looking."
That is not the picture Jesus is painting about God – remember the little word, "until"?  Jesus is describing no mere glance around the local desert area to see if the lost sheep is visible; no general search around the house to see if the coin is nearby.  No, we're not talking human logic and practicalities.  We're talking about a search that doesn't end "until" the lost object is found.
Have you ever lost something?  Like your wallet, your glasses, your keys, or your cell phone?  Be forewarned!  As you get older, you will get used to losing these things.  Do you recall the joy and relief you felt when you found them?  If you lost something of great value and importance wouldn't you search until you found it?  The joy of finding a lost loved one, a precious member of your fold, and your hard earned savings to feed your family are vivid illustrations which Jesus uses to describe what God's kingdom is like.  God the Father does not rejoice in the loss of anyone.  He earnestly searches for the lost until they are restored and joyfully united with the whole community of heaven.
Today's liturgy is about the lost sheep, the people who "have become depraved," the criminals and doers of evil who have offended against God and society.  These are the lost people who are like the prodigal son, wasting everything they have on dissolute living.  They present a challenge to us just as the prodigal son presented a challenge to his family.  The message is of forgiveness, leaving the ninety-nine sheep in the wasteland and following the lost one until he is found.  Our model is the father of the prodigal son, who forgives the past and welcomes his dead son back to life.
In the parable of the Prodigal Son, Jesus gives us a vivid picture of God the Father and what his character and attitude towards us is like. God is truly generous, kind, and forgiving towards us. He does not lose hope or give up when we stray from him and his commandments. He searches our hearts to show us where true love and mercy can be found and he lead us back to the way of everlasting joy and happiness (Psalm 139:1, 23-24).  We see this clearly in the Gospel. Jesus describes an amazing father who did not give up on his ungrateful son. Jesus tells us that God not only waits for us, he also goes out to actively seek us.  God the Father always rejoices in searching out those who have strayed and he welcomes them home with open arms.
The Scribes and Pharisees did not seem at all pleased that Jesus had forgiven known sinners.  We really have to be careful that we don't behave the same way.  Perhaps we come to Mass at times and see someone that has done bad things.  What is our reaction?  According to the Gospel for today, our reaction should be: "I am happy he or she is here, choosing Christ."  That person is here for the same reasons that we are here: compassion, forgiveness, and love.
The vast majority of us are well aware of our failures.  Sometimes we think about something that we have done and feel badly.  We think to ourselves: How could God forgive me?  Maybe I don't even belong here in the Church, with people whose commitment to the Lord has been far more solid than mine.  Perhaps at times we have an experience of God's love in our lives and then suffer from our past even more.  This is all really the normal reaction of our commitment to the Lord.  The closer we come to Him, the more we are aware of the impact of the times that we did not choose Him.  Maybe the problem is that we are focusing on ourselves rather than on God.  According to the three parables, the Lord is delighted that we are once more in His Company.  Like the Forgiving Father in the Prodigal Son, the focus is not on the past.  His focus is on our present and our presence with him.  Our return to Him is a cause of his joy.
It takes a tremendous amount of humility to recognize that God has forgiven us.  We cannot cause God's grace to happen in our lives.  We cannot cause God's forgiveness to take place.  But it does happen.  God is infinitely bigger than us.  Can anything we have done be beyond God's compassion and mercy?  The Lord is calling us into our joy and calling us to move beyond whatever is holding us back.  He forgives us.  We need to forgive ourselves.
The Second Reading is also about mercy.  Paul explains that he once was a persecutor of God's people.  He doesn't gloss over his own evil.. But Paul says that he obtained mercy from God anyway, because God could see the man that Paul "could" become.  For the sake of the man Paul could be in the future.  God had mercy on him.
In the First Reading we find God becoming quite upset because the people in ancient days put up cheap products as their God.  While Moses is away, they have built a golden calf, and are making it their God.
Moses had every reason to give up on the Israelites.  At the command of God, Moses had worked miracles and led the Israelites through the sea.  But they quickly forgot God's mercy and began worshiping false gods.  Moses, nevertheless, continued to intercede for them – and through God's mercy, they got a second chance.
We live in a society where forgiveness of sin has come to mean saying there is no such thing as sin.  Our knee-jerk reaction when someone admits wrongdoing is to say,  "Oh, come on, was it really such a big deal?"  Or, "Don't be so hard on yourself."  That attitude has invaded even the church.  Compassion has come to mean "accepting the other person just as they are, not trying to change them."
Jesus tells us that God not only waits for us, he also goes out to actively seek us.  He is like a shepherd trying to rescue a sheep that gets separated from the flock.  Or like a woman who loses a coin and has to turn the house upside down to find it.  Or like the father who did not give up on his son.  This is the everyday story of you and I.
St. Paul was not feeling sorry for himself when he said that he considered himself the worst of sinners.  He rejoiced in Jesus' salvation.  We are invited to do the same.