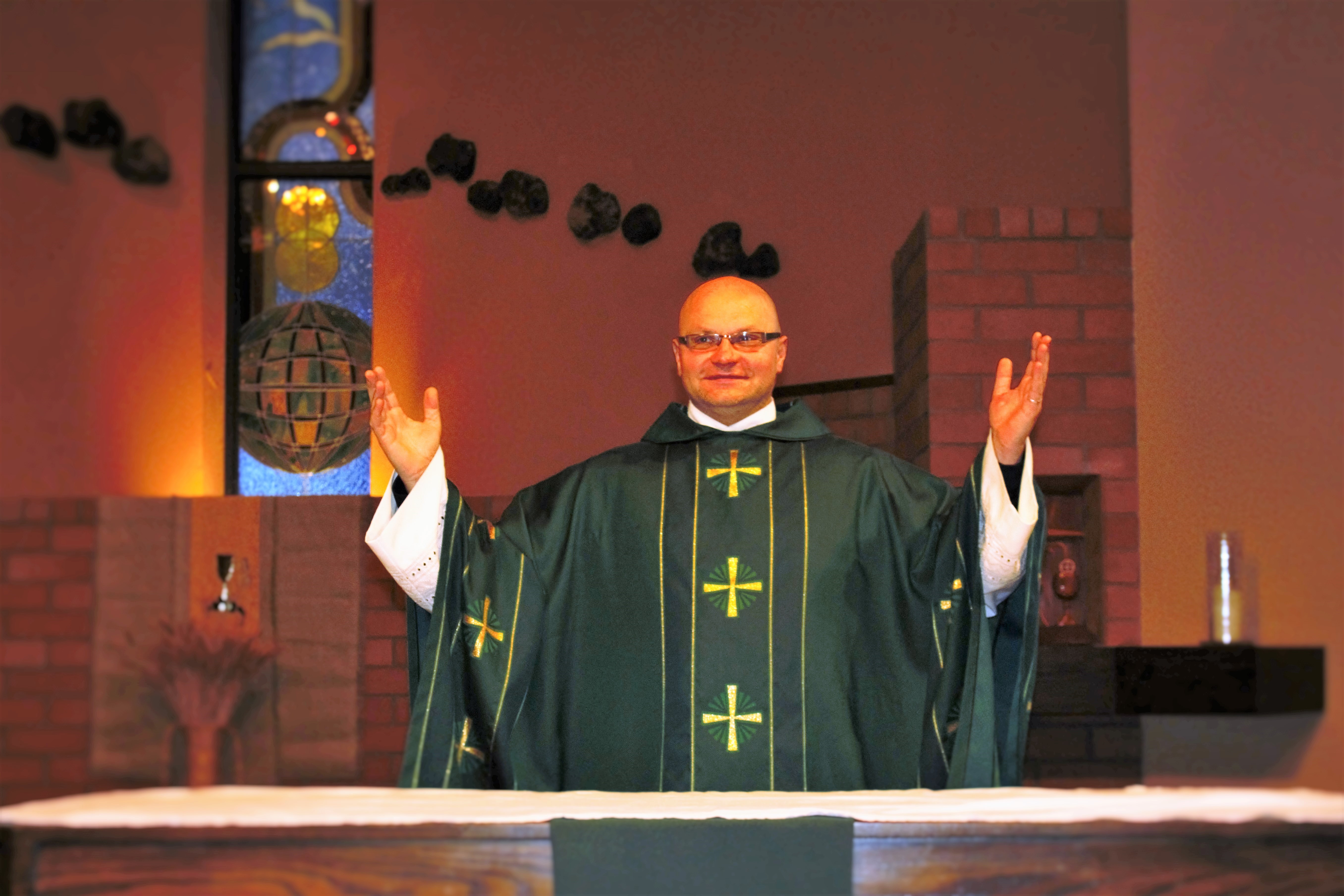 The prayer Jesus I trust in you is the heart of the Divine Mercy devotion.
The mercy of God is our only hope – and every day, as we walk the various paths of life, we learn to whisper over and over again, deep down in our hearts: Jesus, I trust in you! Jesus, I trust in you. This simple prayer of faith, this grace of confident trust, is a gift from the merciful God, which gives us power to do all sorts of things in our spiritual lives.
This simple prayer, Jesus I trust in you, is a power station for our spiritual life. But we have to mean it and live it. It means: Jesus, I trust in your merciful love for me.
Firstly, this prayer enables us to repent of our sins by taking from us the fear that we will be humiliated or rejected. Now this is a really big issue and there are many people who hold back in this area because it is so painful and scary and difficult for them – but not when we say, Jesus, I trust in you!
If we knew the doctor could not help us, or was going to scream at us for getting sick, or was going to say, 'Get out of my office, your disease disgusts me!' would we bother going to see him? Would we bother telling him where it hurts? Of course not. It would be a waste of time. But when we trust the doctor we tell him everything:
Can Jesus cure directly our disease? Yes? Of course he can. So why does he send us to a doctor? Why all this messing around? Why can't we just kneel down beside our bed, say a prayer of petition, and have Jesus cure our disease? Why does he send us to the doctor?
Why did Moses have to lead the people out of Egypt? Couldn't God have done that himself?
Why did Moses have to stretch out his hand and hold the staff over the waters of the Red Sea before God parted the waters?
Why did he have to strike the rock with his staff before God let the water come out of the rock?
When Jesus cured the ten lepers why did he command them: Go and show yourselves to the priest?
On this Divine Mercy Sunday let me say few words about The Sacrament of Confession the Sacrament of God's divine mercy and why do we have to confess our sins to a priest?
We let the priest baptize us, confirm us, bring the Body and Blood of Jesus onto the altar at Mass and give it to us in Holy Communion, marry us, and anoint us, but many of us won't let him forgive our sins. We invent weak excuses to justify our behavior.
There are all sorts of errors and misconceptions spread about this wonderful and essential sacrament and the biggest and most horrible one of all is that it is no longer necessary. 'Oh, you can just tell Jesus privately that you are sorry for your sins and he forgives them. No need to go to the priest. Tell Jesus direct!
We all know that before we can be cured we have to identify the disease – and so it is for our soul.
Maybe for some this is the scariest part. Looking at what they have done – admitting that this is their sin.
As I said at the beginning: to be able to say Jesus I trust in you is to be able to confess your sins confidently at the Throne of Divine Mercy, which is the Sacrament of Confession. There you will hear no recriminations, no accusations, no gasps of shock or looks of surprise, just the Divine Mercy of God poured into your heart through the words of the priest: I absolve you from your sins, in the name of the Father, and of the Son, and of the Holy Spirit.
Christ's 12 Apostles serve as a sorry excuse for friends. First, Judas quite actually betrays Jesus with a kiss, handing Him over to the Sanhedrin for 30 pieces of silver. Then when the Lord is arrested, just about all the other Apostles abandon Him to save their own skins. Furthermore, Peter, the chief Apostle among them, does something perhaps worse than merely desert Him. Three times, he denies even knowing Jesus, just hours after telling the Lord that he would never do that.
Then Christ, of course, dies on the Cross surrounded by His enemies and only a few friends. On the third day after Christ's death, the Apostles remain in hiding where "the doors were locked . . . for fear of the Jews" (John 20:19). They dare not visit Christ's tomb.
Of course, by now, we know that Jesus has already risen and appeared to Mary Magdalene (and according to tradition the Blessed Virgin Mary).
So fearful were the Apostles that if the Risen Jesus had knocked on their door, they might not have let Him in. Instead, He simply passes through the locked door and appears in their midst.
Despite all the ways the Apostles had failed, when Jesus enters, He is not angry at them for abandoning Him. The first thing He says to them is, "Peace be with you" (John 20:21). He shows them His wounds on His hands and His side, as if to say, "Look, I'm alright after all. You don't need to be worried about Me, or at all ashamed anymore about anything."
This appearance of Jesus happens at a time when the Apostles' fear and despair has likely reached its height. To the Apostles, each day that passes after Christ dies is just one day closer to them all being arrested. Jesus, however, often waits until we're at our weakest to make the biggest impact. Indeed, the Risen Christ comes, not merely to restore the Apostles to how they were, but to transform them into a better version of themselves.

Jesus tells them, "As the Father has sent me, so I send you" (John 20:21). Scripture continues, "And when he had said this, he breathed on them and said to them, 'Receive the Holy Spirit. Whose sins you forgive are forgiven them, and whose sins you retain are retained" (John 20:22-23).
Not only does Jesus forgive the Apostles, but He gives them the ability to forgive the sins of other people! He makes them His representatives on earth.

This story reveals the unfathomable mercy of God. It reminds us that if we're sorry, the Lord doesn't treat us according to our sinfulness. He lavishes His love upon us even when we fail Him miserably.

And on Divine Mercy Sunday, we have the opportunity to receive that same mercy. In the Diary of Saint Maria Faustina Kowalska, Jesus says, "I want to grant a complete pardon to the souls that will go to Confession and receive Holy Communion on the Feast of My mercy" (1109).

That's right. Not only does Jesus want to forgive our sins on this day. He wants to pardon us from any temporal punishment our sins have wrought upon us, no matter what we've done. We just have to be in a state of grace by having gone to Confession sometime beforehand. Then upon receiving Communion on Divine Mercy Sunday, all we have to do is ask Jesus to extend this amazing grace to us. And He will. Because our sinfulness is nothing compared to His unfathomable mercy.