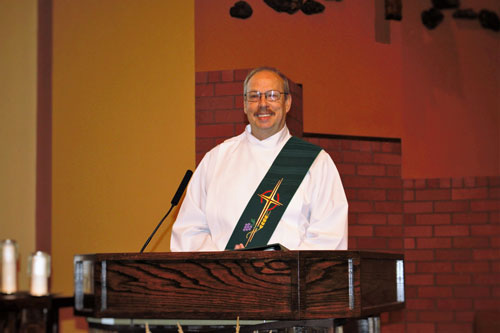 Penance, Preparation, Patience, Perseverance…
Advent – It blends together a penitential spirit, very similar to Lent, a liturgical theme of preparation for the Second and Final Coming of the Lord, called the Parousia, and a joyful theme of patience as we get ready to re-live the birth in Bethlehem.  And I would add one more, Perseverance.  Whether waiting for Jesus Christ to return or the end of our life, we need perseverance to see us through.  Advent invites us to reflection, prayer, and self-discipline in order that we might be truly ready to celebrate the birth of Jesus as well as the end times talked about in today's gospel reading.
At the start of today's liturgy we performed a ceremony repeated in churches throughout the world: the lighting of a candle, the symbol of Advent.  The single small flame, burning alone in the midst of the other unlit candles, reminds us that this is a feast of beginnings, of waiting, and anticipation.  Each week during Advent, we, at here at Risen Christ, have theme to think about, to ponder, and to pray for.  Today the candle is lit for the special intention  of "Prayer for the selection of our new Bishop."
Thanksgiving, Black Friday, Cyber-Monday, Giving Tuesday are all finally behind us.  A lot of people have got there Christmas shopping "all" done.  Now what do they do?  Wait.  They wait.  What do they wait for?  They wait for Christmas.  It's easy to forget that Advent is there because we're so distracted by Christmas, and the shopping, wrapping, parties, food, and everything else.
For us Catholics, Advent is upon us.  Christmas starts, well, on Christmas.  Advent is the season of waiting.  We are waiting for the Lord to be born.  But that is only one way that we wait during Advent.  We also wait for the Lord to come a second time, at the end of time, or, if we don't live that long, at the end of our own time on earth.  This second waiting is the theme of our readings for this week.  "Wait for the Day of the Lord with increased love for one another," Paul tells the Thessalonians in one of the most beautiful passages of Scripture, our second reading, "Wait for the Lord in a way that is pleasing to God by living out the instructions you have received."
So how do we wait?  Sometimes life feels like the world is shattering and collapsing and there are people who long for the end of the world . . . as they know it.  Many of us have experienced this kind of world and understand what our final end might be like.  When hope is all but exhausted and we look around and see that everything still seems normal, but the world has stopped for us.  When the small shadow appears on an x-ray after years of remission; when we're on the verge of losing our home because the bank says, "time's up;" when we wait for the doctor to call on that blood test that has to be done every six months; when we wait in anguish for the sound of the car pulling in the driveway when our seventeen-year-old son is hours late getting home.
Not all waiting is unnerving and fearful.  Sometimes we wait in joyful hope and expectation—for a pregnancy to end and labor to begin; for the grandparents' to arrive on their annual vacation visit; for Christmas morning after weeks of eagerness and excitement.  But wait we must—it seems so unavoidable in this life.  And none of us waits very well.  Whether it's standing in line at the grocery store or waiting for winter to end and spring to begin, waiting has a way of taking hold of us and demanding all our attention—it tests our patience and can sometimes feel like solitary confinement.  We do anything to avoid it and fill our lives with great amounts of activity so that we don't have to think about it.  We hurry through life, and we fret and worry if we're doing enough, and . . . all the while we're waiting.
The gospel today from Luke, sounds like the Book of Revelations, or the Apocalypse.  The  reading uses frightening symbolism to move people into action.  The predictions frighten us.  "There will be signs in the sun, the moon, and the stars, and on earth nations will be in dismay, perplexed by the roaring of the sea and the waves.  People will die of fright in anticipation of what is coming upon the world."  We are meant to become emotionally involved.
."Be vigilant at all times," the Lord says, "and pray that you have the strength to escape the tribulations that are imminent and to stand before the Son of Man."  Stay awake.  Wait and be ready.  These are the themes of the First Sunday of Advent.
Advent is a gift, a precious gift of time to straighten out what is not yet right; to overcome that one struggle, that one area of darkness—to heal what we've broken, to forgive, to be less addicted, to be more chaste, to be more generous, to bring Christ back into our lives as if this Advent were our very last Advent.  It's a time to interrupt our Christmas marathon and look into our lives no matter how shattered or wonderful they may be, to find Christ with us.  Christ who once came.  Christ who comes to us in the broken places where we know we can't make it on our own.  Christ who comes to us in those moments when we look beyond our own needs, to see the needs of others.
Perhaps, we can take a cue for our advent preparation from the little children. Right now they are making out their lists to send to Santa. Well, we should also make out our lists, in our minds if not on paper. But our lists must be different than the children's lists. Our lists must both contain what we need and demonstrate what we are doing to help fulfill our needs. At the Second Coming, be it at the end of time or the end of our own personal time on earth, the Lord will examine our lists and then look to see if we have done our part to bring each item into reality.
Advent is a period the Church gives us to renew our awareness of Christ's Lordship over life and history.  It's also a time to renew our commitment to following the Lord.  God has something ready to help each of us experience this Advent renewal:
maybe a new insight that will make us grow in wisdom;
maybe an experience of forgiveness or spiritual liberation that will bring us deeper interior peace;
maybe a word of grace that will heal us of an old and festering emotional wound;
maybe a personalized spiritual vitamin that will strengthen and inspire us for a new mission he has in store.
Only He knows how we are meant to grow during this Advent.  And the best way for us to find out is to cooperate with Him, to make a decent effort to do our part.  Something should be different in our lives during these next four weeks.  Something should be different in our homes, in how we spend our time, in what we think about.  Advent is about contemplating and savoring Christ's redeeming Lordship over human history.  Our job during this month before Christmas is to focus our attention on that:
to pray about it,
to reflect on it,
to understand it more deeply,
to tell others about it,
to let it touch, transform, and renew our lives.
During the season of Advent, the Church asks us to look at ourselves in a way that isn't about vanity, in a way that's truthful, honest, and can change us for the better.  One of the goals of this little blue book is to try and encourage people to take a few minutes a day, if not more, to step away from all of that, and spend more time quietly, prayerfully reflecting on what is about to happen when we celebrate the Incarnation.  Begin each reflection with the words from Psalm 46:10, "Be still, and know that I am God" because silence is a rare commodity in today's world unless we intentionally make time for it.  End each reflection with the hymn "O Come, O Come, Emmanuel.  It's a song of anticipation, of yearning and longing. There's a mournful quality to it.  Advent comes at the darkest time of the year.  As the nights get longer, the days get shorter and it gets colder.  So we string lights all around us to try and fill the darkness with light.  But we need to look to Christ to be that light.  That's really what we're yearning for.