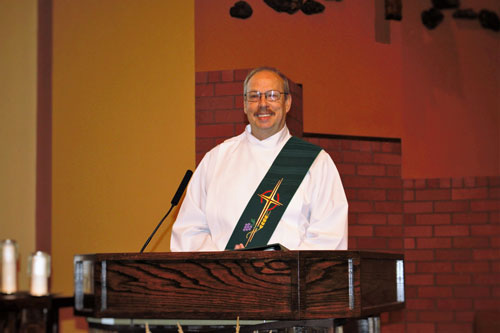 The Book of Genesis tells us that "God created man in his own image, in the image of God he created him, male and female He created them" (Genesis 1:27).  The New Testament book of 1 John tells us that "God loved us first that we might love Him." (1 John 4:10)  This explains it all: Creation, the Incarnation, the Cross, the Resurrection, the Eucharist.  God created us out of love for Himself and out of love for His creatures.  We should love God as a child loves his mother and father.
In today's 1st reading, Moses reminds the people just before they are to cross into the Promised Land, that they made a covenant with God "to keep, throughout the days of their lives, ALL of His statutes and commandments" (Deuteronomy 6:2), in order to enjoy a long life.  Then Moses reminds them,  "The Lord is God.  The Lord alone!  You shall love the LORD, your God, with all your heart, and with all your soul, and with all your strength." (Deuteronomy 6:4-5).
What is the purpose of God's law or commandments?  The Pharisees prided themselves in the knowledge of the law and their ritual requirements.  They made it a life-time practice to study the 613 precepts of the Old Testament along with the numerous rabbinic commentaries.
The Pharisees tested Jesus to see if he correctly understood the law as they did.  Jesus startled them with simplicity and mastery of the law of God and its purpose.  When asked for the greatest single commandment, he actually answers by naming two commandments – loving God and loving neighbor.  He links forever the commandment to love God with the commandment to love one's neighbor as oneself.
No one had ever done that before; everyone simply agreed that loving God came first.  Loving one's neighbor was good but it was secondary – the primary thing was loving God.  Jesus challenges those assumptions: true love for God, he teaches, cannot exist apart from true love for neighbor.  This answer was surprising because it put love for neighbor on par with love for God.
We have to ask – What does God require of us?  Simply that we love as he loves!  God is love and everything he does flows from his love for us.  God loved us first and our love for him is a response to his grace and kindness towards us.  The love of God comes first and the love of neighbor is firmly grounded in the love of God. The more we know of God's love and truth the more we love what he loves and reject what is hateful and contrary to his will.  If someone claims to love God, that love can be shown in the visible way they treat their neighbor.  St. Francis de Sales said, "We must begin with love, continue with love, and end with love."
When we obey God's command to love our neighbors, in little things or in big things, we actually increase the intensity of God's presence in the world – because we reveal his love to others.  Loving God and neighbor are the great commandments – they are the path to true happiness and fullness of life.  All of us here today love God, and we love our neighbor.  But our love is still immature.  It has room to grow; it can become stronger.  And as it gets stronger, so will the gifts and fruits of the Holy Spirit at work in our own souls.  And that's what we are all hoping for.  So what can we do to strengthen our love for God, to make it grow?
Love God and your neighbor….  In regards to the second commandment, this love seeks for the greatest good for our neighbor.  By way of definition, "neighbor" in this passage refers to anyone who is around us: our actual neighbor or the person at the desk next to us at work.  "For he who does not love his brother whom he has seen, cannot love God whom he has not seen" (1 Jn 4:20).
So, who is your neighbor?  Do you even know your neighbor(s)?  I know my neighbors.  Across the street from where we live is Sharon (Sherri); across the alley from her is Inez; in front of us is Debby; across the alley from us is Gary and Jean; next to them is Carol.  Our next door neighbors are Terry and Jane; next to them is Althea, and across the street from Althea is Henry.  Am I nosy?  No, I want to know who my neighbors are.  At any given time, I can have a conversation with any one of them.  Do I love them?  Absolutely!  They are my neighbors.
Our post-modern world has, in many ways, given up on the idea of God.  The sheer quantity of religions and denominations and their inability to agree on doctrines has created a cynical indifference to God.  Government and popular culture have almost succeeded in keeping God in the closet – at best.  What the seculars do agree about, however, is the importance of loving one's neighbor – toleration, diversity, random acts of kindness, paying it forward…. These are things we can sink our teeth into, so they say.  And yet, is it really possible to make the sustained effort necessary for truly Christian love of neighbor, without staying connected to the reason why our neighbor ought to be loved?  In other words, if I don't love the God in whose image my neighbor is created, how long and how deeply can I really, truly love my neighbor?
What makes our love for God and his commands grow in us?  Faith in God and hope in his promises strengthens us in the love of God.  They are essential for a good relationship with God, for being united with him.  The more we know of God the more we love him and the more we love him the greater we believe and hope in his promises.  The Lord, through the gift of the Holy Spirit, gives us a new freedom to love as he loves.    Paul the Apostle says: "hope does not disappoint us, because God's love has been poured into our hearts through the Holy Spirit which has been given to us" (Romans 5:5).  We grow in our love for God by growing in our knowledge of God.  To love something, we have to know it.  And so, if we want to grow in our love for God, which is the surest way to grow in our love for neighbor, the best thing to do is to get to know God better.
Here are three things we can do to know God better.  First, spend fifteen minutes a day reading the Bible.  The Bible is God's Word – he reveals himself there.  Second, do a holy hour in front of the Blessed Sacrament.  When we spend time with Jesus, in silence and prayerful reflection, he speaks to our hearts and reveals himself to us.  Third, go for a prayerful walk.  God created the world.  The beauties of nature are his work of art.  Just as any artist reveals himself in his works, so does God.
All of us here today love God and our neighbor.  So, how do we show love for our neighbor?  We don't have to do anything crazy – just something to show our love.  We can show this love through the Works of Mercy.  Feeding the hungry, giving drink to the thirsty, clothing the naked, visiting the sick and imprisoned, sheltering the homeless, burying the dead, instructing the ignorant, counseling the doubtful, admonishing sinners, bearing wrongs patiently, forgiving offenses willingly, comforting the afflicted, praying for the living and the dead.
Blessed Mother Teresa of Calcutta shows the same kind of common sense:  "We are commanded to love God and our neighbor equally, on the same level.  There is no difference.  Love for our neighbor must be equal to our love for God. We don't have to search for opportunities; we have them twenty-four hours a day with those around us.  How is it that we do not see and we miss these opportunities?"