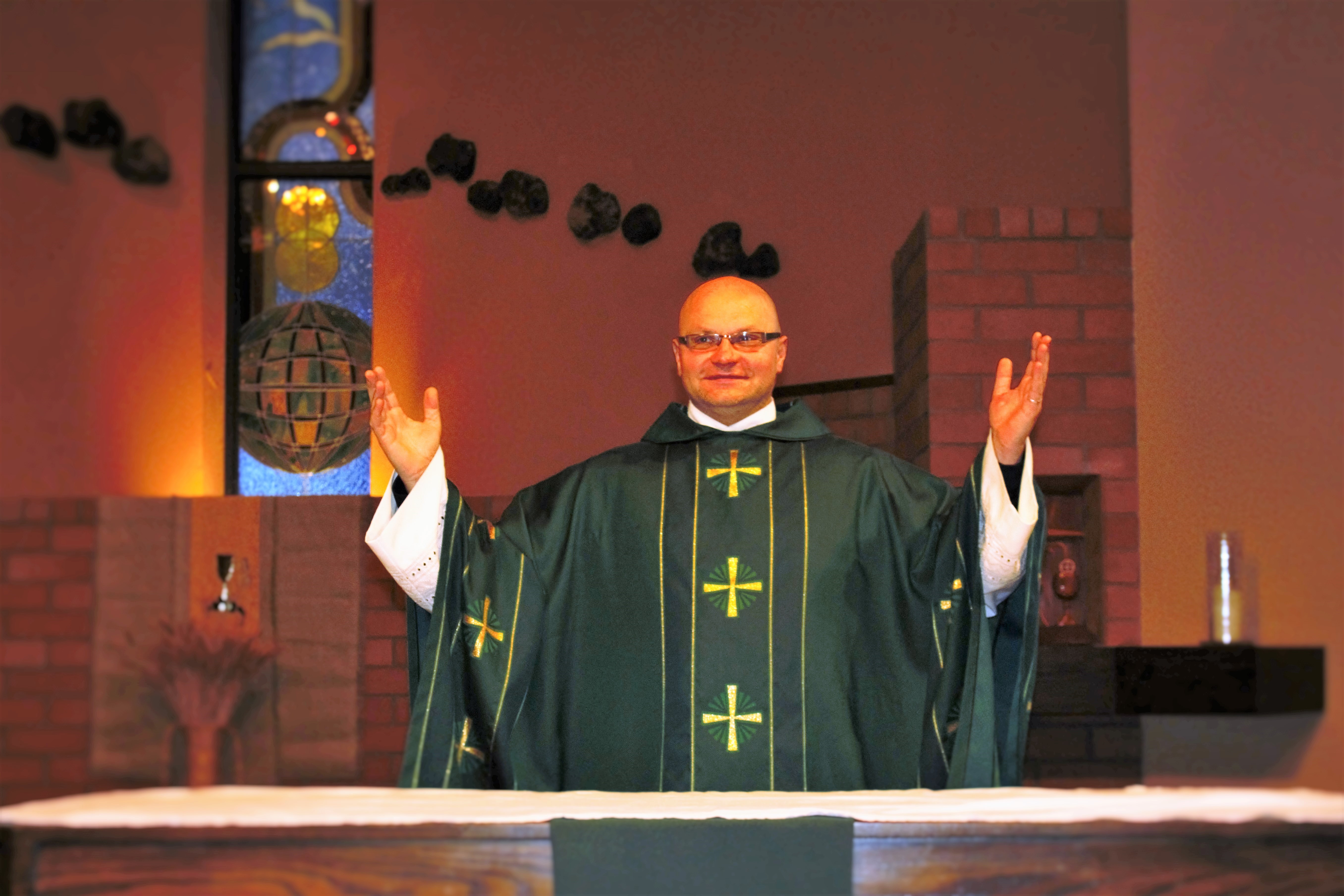 Pontius Pilate, the Roman governor of Palestine, stands face-to-face with the Lord of the universe. Pilate is agitated by the circumstances, but thinking clearly because it's still early.
Jesus is exhausted from the first twelve hours of his passion, but his eyes glow with the love and determination that had led him to this hour.
He came to earth in order to save Pilate's soul; Providence has finally brought them together. Jesus is eager to draw this Roman patrician close to his heart. All the conditions are right for Pilate to detect in Jesus the God for whom his heart longs. Yet, he doesn't: he is in the same room with Jesus, speaking with him, but he remains unmoved. Why?
Jesus himself gives us the explanation when he tells Pilate, "Everyone who belongs to the truth listens to my voice."
With that sentence, Jesus teaches us all the secret to intimacy with God.
Whoever lets himself be led by what is true will be drawn into communion with Christ, will hear and heed God's ceaseless invitations to follow him more closely. But being led by truth requires humility.
It requires recognizing a higher authority than oneself: if I am obliged to discover, accept, and conform to what is objectively true (morally, physically, historically), then I am not autonomous, I am not the master of my universe, I am not God. Making that act of humility, which frees us from the enervating bonds of selfishness, is hard.
Our fallen human nature tends towards pride, towards self-sufficiency, control, and dominance.
To resist that tendency, obey the truth, and expose oneself to the burning love of God takes courage.
Courageous, humble acceptance of God's truth, of the truth that God is love – that's the only way to follow our eternal King, and to experience the fulfillment that comes from being a faithful citizen of his everlasting Kingdom. Hatred for or fear of the truth, which can make us deaf to the whispering of God's voice in our hearts (as it did in Pilate's case), is also called moral relativism.
Pope Benedict XVI has been warning the world against the steady advance of relativism in modern society since day one of his pontificate.
He considers it one of the greatest threats against the common good that the Church is facing today.
In a speech to the International Theological Commission (October 2007), the Pope put it like this:
"…Precisely because of the influence of cultural and ideological factors, today's civil and secular society is found to be in a state of bewilderment and confusion: it has lost the original evidence of the roots of the human being and his ethical behavior… The problem that arises is not, therefore, the search for good but the search for power, or rather, how to balance powers. At the root of this trend is ethical relativism…
When the fundamental requirements of human dignity, of human life, of the family institution, of a fair social order, in other words, basic human rights, are at stake, no law devised by human beings can subvert the law that the Creator has engraved on the human heart without the indispensable foundations of society itself being dramatically affected…          If, by tragically bloating out the collective conscience, skepticism and ethical relativism were to succeed in deleting the fundamental principles of the natural moral law, the foundations of the democratic order itself would be radically damaged."
If we "belong to the truth," if we do not let selfishness and self-centeredness turn us into enemies of the truth, then, Christ promises, we will be able to "listen to his voice" and follow him into his eternal Kingdom. The freedom of Christ's Kingdom is an interior freedom, a peace and strength of soul that only his grace can give us.
If up to now we haven't experienced it as deeply as we would like, there could be a variety of reasons. One simple one could be that we just don't know his teaching well enough to understand and follow it.
In past generations, the values of popular culture were for the most part inspired by a Christian worldview.
Entertainment, schools, and the general patterns of behavior encouraged by society were more or less in harmony with the moral and spiritual messages that people would hear at Sunday Mass. As a result, the Sunday homily was supported and reinforced by many other sources of input.
But now that has changed. The world around us has been secularized, and normal behavior is, often, profoundly anti-Christian.
As a result, R.E and the Sunday homily are not enough anymore.
If we want to truly understand ourselves and the world in the light of Christ's saving truth, we have to take a more active role.
If all week long we fill our hearts and minds with secular images and information, we will begin to think like secularists, even if we still come to Sunday Mass. And then it will be no surprise that we aren't experiencing the interior freedom that Christ promises us.
Following him faithfully requires seeking him out, spending time each day in personal prayer, and spending quality time each week studying our faith.
In a world that is rebelling against our King, unless we are Christians who actively follow Christ, we will slowly slide into rebellion ourselves.
As we continue with today's solemn celebration of Christ's Kingship, let's promise our Lord that we will never let that happen to us.