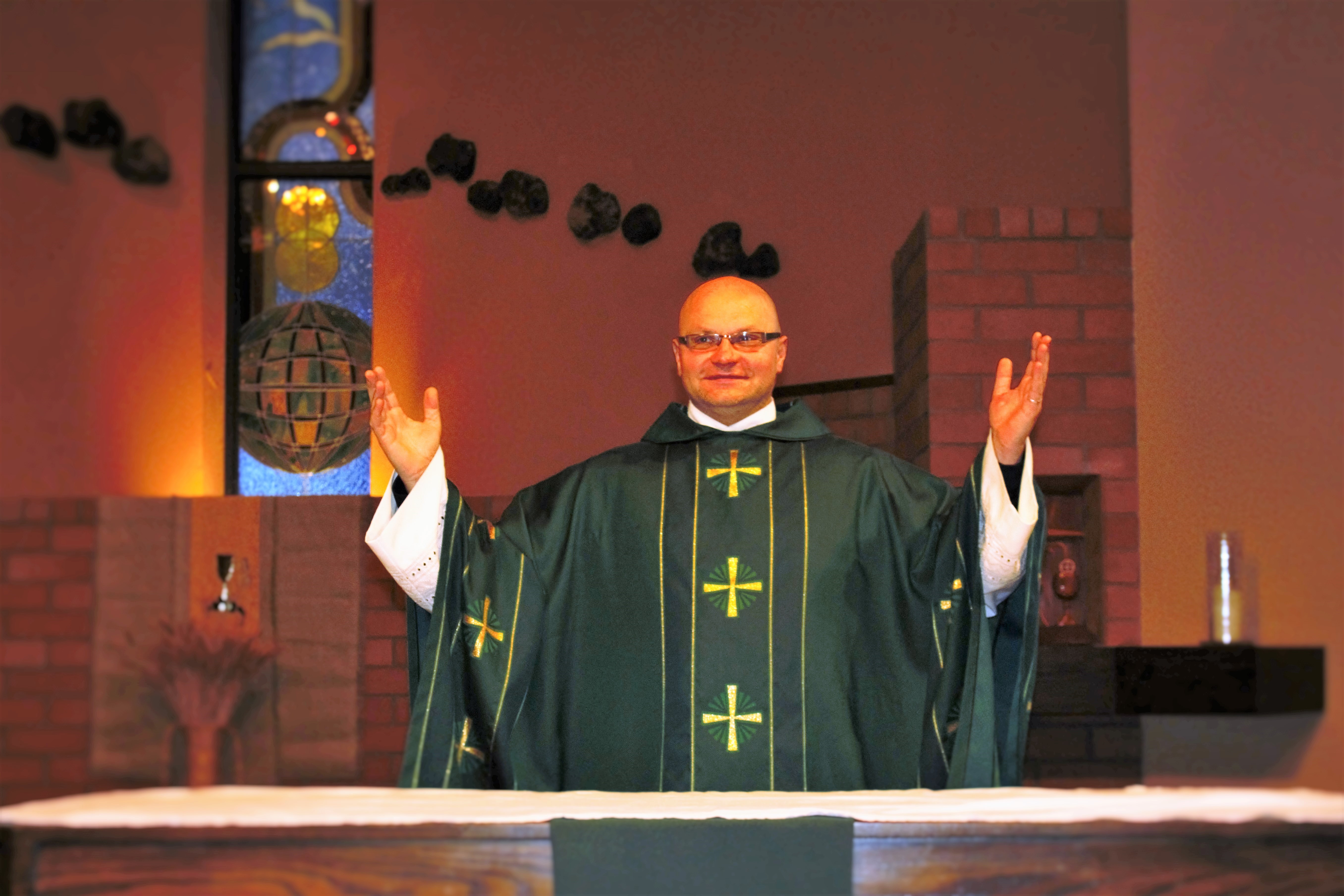 In the Gospel we hear today – as we have been hearing these past few weeks – a story of Disciples behaving badly, of Disciples not getting it, of Disciples missing the point that seems so obvious to us who listen with well trained ears. Can you believe it? These guys–Apostles of the Church!–arguing like little kids over who is the greatest, over who gets to sit closest to Jesus! We never do that, do we? We might almost want to say: "James, John – come on guys, where have you been?
The Kingdom of God is not about sitting at the side of the great man." We know, or at least we would answer if someone were to ask, that the Kingdom of God is about service, about seeing to the needs of others before we think of ourselves, about giving ourselves wholeheartedly for the good of all. And as we follow Jesus in the readings of the last several Sundays, we see him making this point again and again it seems to go right on over the Disciples' heads. So in the Gospel of last Sunday, in the story of the rich young man, we hear that following Jesus is not just about following all the rules, though they are important, but about giving up whatever it is that keeps us bound to going after the things in our lives that do not provide the happiness they promise – whether that means wealth or status or prestige. And in the Gospel from the week before, we see Jesus taking a child as an example of one who truly follows him as a disciple – that is as one who is open, ready to learn, without pretense, open to change. And so it is in the Gospel today: Jesus turns the expectations of his followers upside down, and he tells them that if they want to exercise their ambitions then they should do so by serving the rest – taking the least place, if they want to be considered great.
Taken in this way, today's Gospel is another place where Jesus challenges us to reconsider what it means to be a Christian. To follow after Christ, to enter the Kingdom of God, means in some way giving up the things the World values and embracing the values that Jesus holds and that are the way to true happiness and to real fulfillment. It is worthwhile to hear this message again and again, for no doubt there are parts of our lives that still need to be brought into the light of Gospel values, that still need to be transformed if we are to be free enough to follow after Jesus.
But I think it is a mistake to only read the story in this way. James and John show us what not to do in asking for a share in the glory, but they are not only two disciples slow on the uptake. If we read ourselves into their place – as we can anywhere in the Gospels where the disciples appear – we can also see how their conversation with Jesus shows us something about how we can approach Jesus. Let us focus on three moments.
Firstly: Do I believe that God is good and he wants the best for me?
Every bad experience, every hurt or suffering, every unhappy news report of a volcano or tsunami or earthquake makes it plain that we have not yet confidently and totally reached the conviction that God is good. 'How could God do this? How could God allow this? Why does God not put an end to this?'
God is good when the sun is shining and when dark clouds blanket our lives. He is good when all is going well and he is good when disaster strikes.
"What do you wish?" God asks that question because – hard as it may sometimes be to believe – that is actually what God wants so much to give to each of us: what will truly bring us happiness and wholeness, healing and a sense of purpose. Look at all the people in the Gospels who come to Jesus, asking him for something – and even a few who come without asking. Whether they need a cure, or sight, or speech or life, each comes away from their encounter with Jesus with what he or she truly desires: what each needs to give thanks to God and to lead a full life.
The total conviction of God's goodness is a necessary foundation on which to build our relationship with God; it gives great peace and great strength. No more anxieties or doubts and no more criticisms. Our God is good.
Secondly: There is a question: Who is servant and who is Lord?                                We may notionally acknowledge that God is Lord and that we are the servants but in actuality we often seem to live and pray as though it's really the other way round. That's one of the reasons we get so angry and frustrated when he doesn't seem to be answering our prayers the way we want him to, or when our plans are thwarted. Do you really want to give up your desires and plans and take on mine, he asks the two Apostles. Are you ready to abandon all those things that give your life security and trust me?
They show us the risk in asking God for what you truly want; they show us the risk that following Jesus implies; how it is, we are to respond to God's call to follow him.
The good God is not my servant; I am his servant. I am here to do his will and wait on his plans for me. Let's get this straight in our minds and hearts once and for all.
Thirdly: We have to reassess our notions about suffering.
No person in his right mind would claim that suffering is good in itself; certainly it is evil. And let us remind ourselves that evil is not of God's doing; suffering was never part of God's plan. We well understand that it entered our lives because we misused our gift of freedom; we wanted to set our own limits, to be our own god.
Suffering now accompanies almost every move we make; we are born in suffering and we die in suffering.
And yet there is a positive dimension to it all. Suffering can bring good. It dogs our footsteps but it can become an instrument of healing and growth; it can bring us to come to resemble the Lord himself, who learnt to obey through suffering. (Heb 5:8)
His sufferings brought him to perfect obedience, redemptive obedience, and our sufferings can lead us to come to bear a likeness to him.
We do not know at the beginning what following Christ will mean for us, and the way you do it will be different from the way I do. But however our lives become shaped, we trust ourselves to the promise: if we truly give of ourselves, God will not disappoint.