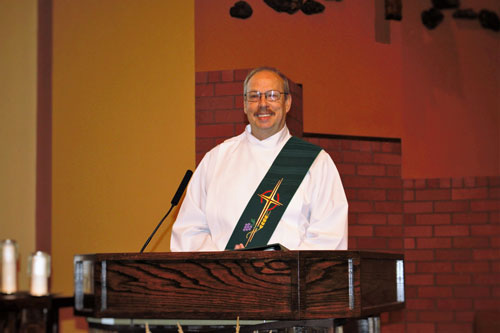 Why does Jesus hold such interest after two thousand years?  Can he solve the problems of today's world?  What can we expect of him?  What can he give to support persons of our time?  Is there anything in this life that can truly satisfy our deepest hunger and longing?
The Gospel of John speaks of an interesting conversation that Jesus has with a crowd on the shores Galilee.  They have shared a surprising and free meal with Jesus the day before.  All had eaten their fill; so how would they just allow him to walk away?  What they wanted was for Jesus to repeat this action and feed them for free into the future.  In short Jesus tells them, "You have seen wonderful things.  You have seen how God's grace allowed a multitude of people to be fed.  Your thoughts ought to have been turned to the God who did these things for you, but all you think about is your next meal."
Jesus upsets them with an unexpected proposal: "Do not work for food that goes bad, but work for food that endures for eternal life."  The prophet Isaiah had once asked this same question, "Why do you spend your money for that which is not bread and your labor for that which does not satisfy?"  (Isaiah 55:2).  The Jews immediately thought of "good works" – If I do one more "good work" I will be in God's grace.  Jesus point was that all that these Jews were interested in was physical satisfaction.  They had received an unexpected free meal, all they could eat.  And they wanted more!  Jesus reminds them that ordinary food cannot last.  They should not worry about it, but rather they should seek "the food that endures to eternal life."  Jesus is not denying the importance of bread, money, or the other things we need in order to survive.  He is simply pointing out that they aren't everything.
What did Jesus really mean?  Paul would have put it this way – "the one work that God desires from man is faith."  It means being in such a relationship with God that we are His friends and knowing Him as our Father and friend.  So, how does believing in Jesus fit into this?  "This is the work of God – to believe in Him whom He has sent."  It is because Jesus came to tell us that God is our Father and loves us.  It is this kind of life that Jesus came to bring into the world.
Jesus wants to awaken in them, and in us, a different kind of hunger.  There is physical hunger which food can satisfy and there is spiritual hunger which food can never satisfy.  There are other hungers which can only be satisfied by Him.  He speaks to them of the bread that doesn't only satisfy hunger for one day, but can satisfy the hunger and thirst for life that exists in the human heart.  Within us is a hunger for justice for all people, a hunger for freedom, peace, and truth.  Christ alone can satisfy the hunger of the human heart and soul.  Jesus can satisfy the eternal hunger.  He is sealed by God, He is God's truth incarnate and it is God alone who can truly satisfy the hunger of the soul which He created.  Jesus presents himself as that Bread that comes to us from the Father not to fill us with food, but "to give life to the world."
Then the crowd tests Jesus.  "What sign can you do, that we may see and believe in you?  What can you do?  Our ancestors ate manna in the desert, as it is written: He gave them bread from heaven to eat."
This Jewish crowd refer to the manna as something concrete that was given them in the past and wonder what Jesus has to offer in comparison with it.  It was a clear manifestation of Moses's greatness.  Jesus turns their attention from Moses to God and from the past to the present.  Here and now the Father is offering them "the true bread."  The bread that "gives life to the world."  This bread is himself.  Just like the woman at the well, Jesus offers her water, not the kind she can drink, but Jesus himself.  Jesus' person and teaching have been given to us by God as food and drink for our souls.  It is through faith that God's gift becomes available to us.  To come to Jesus is to believe in Him.
Jesus' answer to the crowd was twofold.  First, he reminded them that it was not Moses who had given them the manna – it was God.  Second, he told them that the manna was not really the bread of God – it was only the symbol of the bread of God.  The bread of God was "He who came down from heaven" and gave them not satisfaction from physical hunger, but life.  Jesus was telling them that the only real satisfaction was in Him.
"I am the bread of life;
whoever comes to me will never hunger,
and whoever believes in me will never thirst."
This is one of the great passages of the New Testament!  What did Jesus mean when He said this?  Bread sustains life.  Without it, life cannot go on.  Life is something more than physical existence.  The essence of the Christian life is a new relationship to God, a relationship offered by Him and made possible by the revelation which Jesus gave us of Him.  A relationship which reflects the service, purity, and trust which are the reflection of God.  This is the work which God wishes us and enables us to perform.  St. Paul would say we are to have faith in this relationship.
Today's second reading makes clear that faith in Jesus and God must have an impact on our entire life.  Paul says, there ought to be a noticeable difference in the way that believers and non-believers live.  He describes non-believers as "aimless" and corrupted by empty desires.  To believe in God, Christ, and the dignity and value of human beings is to find meaning and purpose in life.
Paul speaks of believers undergoing "a spiritual revolution" and of putting on "a new self."  This is not something that happens once and you are finished.  It begins at baptism, but it remains the task of a lifetime.  It is something into which we grow through an ongoing series of small struggles and decisions.  This "new self" has three phases into which to grow.  They are as follows:
The first step within the new life is conversion in its negative aspect: the old nature must be set aside, i.e., that part which is subjected to sin and evil.  We must renounce sin and evil so that our nature will be entirely renewed by the influence of Jesus Christ.
The second step is the positive aspect of conversion, the constant renewal of our thoughts, within our hearts, that is already  by the presence and action of the Holy Spirit.
The third step is the ongoing transformation of the entire person to appropriate a new nature, initially at Baptism and, then throughout life, because this new being, in opposition to the old person, belongs to the new world into which Christ has introduced us as created in the image and likeness of God. This new life develops over time and is comprised of virtues: righteousness and holiness that that allow the individual to learn and know God.
Real life is our relationship with God.  A relationship of trust, obedience, and love.  This relationship is only made possible by Jesus Christ.  Without Jesus there may be existence, but no life.  Jesus is essential for life, and as described, "The bread of life."  Our hunger as humans is ended when we know Christ and through Him we know God.  Every time we come to Mass and partake of the Eucharist, we allow Jesus to become a part of us.  A physical part of us.  Through this intimacy we come to know the Father, and the Son, and the Holy Spirit.  Jesus is truly "the Bread of Life."   With Jesus our restless soul is at rest and the our hungry heart is satisfied.