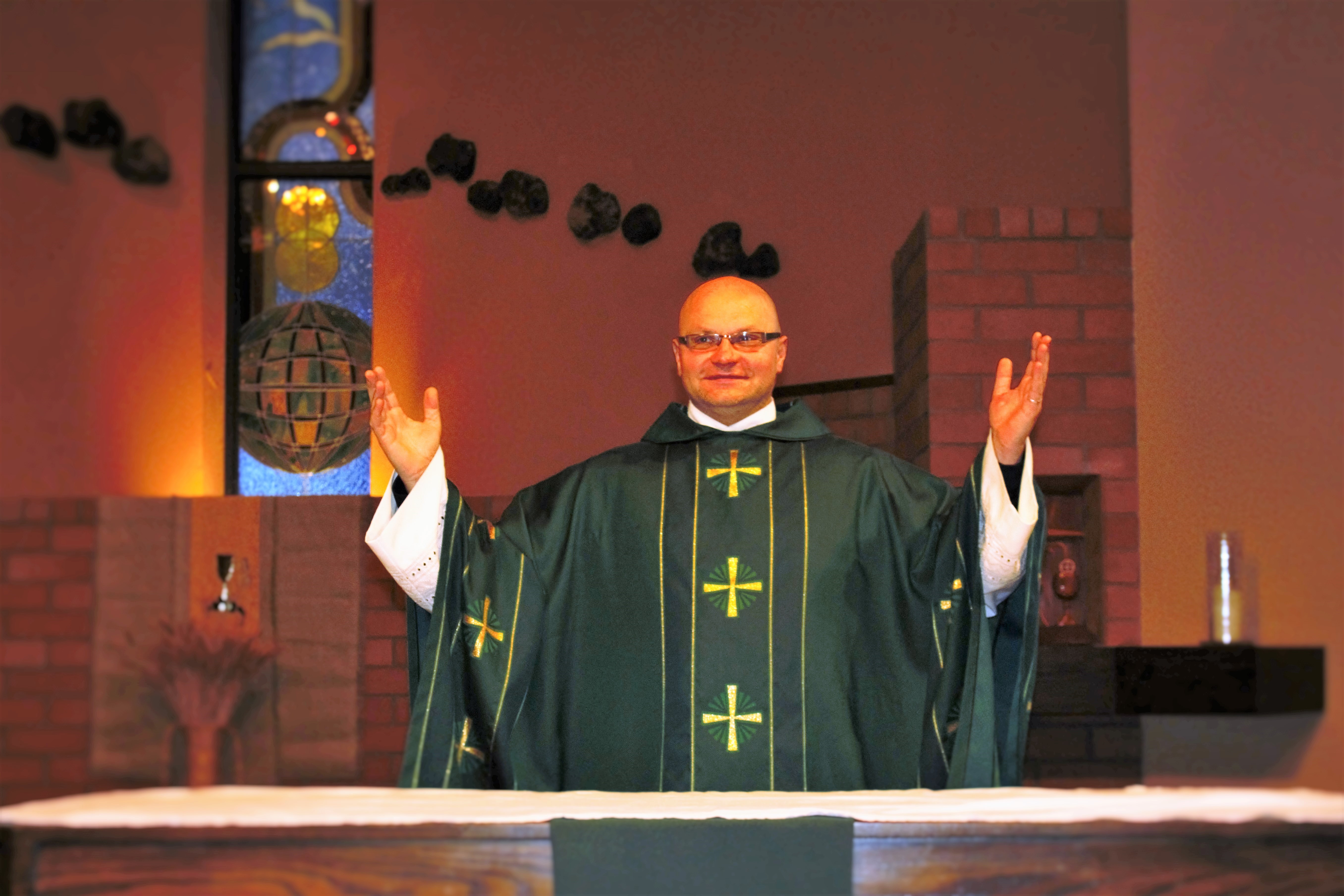 Last week Jesus offered the people true bread, the bread of God, which comes down from heaven and gives life to the world. They had responded enthusiastically: Sir … give us that bread always.
Jesus' reply was unexpected and challenging: I am the bread of life. He who comes to me will never be hungry; he who believes in me will never thirst.
Now the atmosphere has changed and the people are uneasy; it appears the teaching has become too challenging. The Jews begin complaining to each other. The 'Jews', of course, are not the Jewish People as a whole; John is speaking only about their leaders and supporters who were opposed to the Lord and rejected him.
So they complained to each other: Surely this is … We know his … How can he now.. ? etc…
It all boils down to this: 'we' against 'him', doesn't it?;  the consensus of men or the revelation of God?
On another occasion Jesus had asked the Apostles: 'Who do people say the Son of Man is?' (Mt 16:13) And they said, 'Some say he is John the Baptist, some Elijah, and others Jeremiah or one of the prophets'. 'But you,' he said 'who do you say I am?' Then Simon Peter spoke up, 'You are the Christ,' he said 'the Son of the living God'. Jesus replied, 'Simon son of Jonah, you are a happy man! Because it was not flesh and blood that revealed this to you but my Father in heaven.'
Us or God – we or him – men or revelation – opinion or truth – flesh and blood or the Father in heaven? Who decides what is true? The electorate, the majority, the consumers, community standards?
Jesus is not looking for our opinions, or our clinical tests, or our consensus – he is seeking disciples who can say with Peter: Lord … you have the message of eternal life, and we believe… .
So the Jews were complaining against Jesus and we note that they turned to one another for support. Truth can stand alone, error requires noise and numbers, as though what is believed by a hundred shouting men must be truer than what is believed by only one. When noise and numbers attack,  truth steels itself, raises its eyes to heaven and patiently waits. As Pope Benedict has told us in his encyclical, truth is the most powerful reality in existence. It needs no armies to defend it and, ultimately, it always prevails.
So Jesus stands his ground. He doesn't run away or back down, he is not even distracted: Stop complaining to each other… No one can come to me unless he is drawn by the Father who sent me…
This is not the only time Jesus would speak these words to his opponents. In chapter 8 of John's gospel he will tell them: If God were your father, you would love me, since I have come here from God… The devil is your father, and you prefer to do what your father wants.
As we learned last week, Jesus is 'the work' of the Father; sent by the Father to speak his words and to do his will. Only those who acknowledge the Father as their God can accept his Son and the truth he teaches.
In today's Gospel Jesus continues to insist on his unique relationship to the Father: They will all be taught by God, and to hear the teaching of the Father, and learn from it, is to come to me. Not that anybody has seen the Father, except the one who comes from God: he has seen the Father.
It is only because he has come from the Father as the Son, that eternal life comes to those who believe in him. I tell you most solemnly, everybody who believes has eternal life.
The 'Jews' refuse to come to Jesus. The substance of their complaints is that Jesus claims to be bread from heaven. His teaching unfolds to them with unambiguous simplicity:
God, the Father, desires to feed his people.
He has sent me, his only Son, to accomplish this work.
I have come to give you living bread from my Father in heaven.
I am that living bread.
You must come to me, believe in me and eat me.
The bread that I give is my flesh.
This is what we believe and came to profess in our church today.
And so let us open the door of our heart wide, let us allow the Father to draw us, let us set aside our fleshly way of thinking and receive the Lord's words with faith:
I am the living bread which has come down from heaven.
Anyone who eats this bread will live for ever;
and the bread that I shall give is my flesh,
for the life of the world.
And so we join the dots: bread for the stomach; earthly bread … bread for the soul; bread from heaven … Jesus is the living bread; he has come down from heaven … the bread he gives is his flesh; for the life of the world.
Do you believe that?