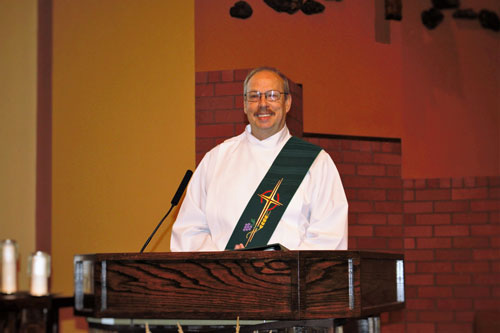 What must it have felt like to be there on that first Easter morn?  Imagine yourself a disciple.  You awaken, still aching with the emptiness that comes after the death of a beloved friend.  Jesus is gone.  You ask yourself how you will live without Him.  You might think of all the words you wish you'd spoken.  Perhaps you hold yourself partly responsible for His death.  Regret is mixed with guilt and the pain of loss.  It's too late.  All your friends feel the same way you do.  But then a frantic woman knocks boldly at your door and whispers with uncontrollable emotion that He is not dead.  She went to the tomb and He wasn't there.  He is alive.  She wants you to help tell the others.  What feelings would have taken hold of you?  Suspicion?  Disbelief?  Joy?
Do you know the joy of the resurrection?  The Risen Lord Jesus revealed the glory of His resurrection to His disciples gradually and over time.  Even after the Apostles saw the empty tomb and heard the reports of Jesus' appearance to the women, they were still lacking in faith and fearful of being arrested by the Jewish authorities.  And yet, last week 1.3 billion Catholics throughout the world gazed with wonder and gratitude on the
Resurrection of our Lord.
Today, we turn our eyes back to the little group of Apostles who were gathered once again in a closed room where the disciples secretly gathered.  How do you think Peter and his friends felt having deserted and denied Jesus during his Passion?
Saint John, who was in the Upper Room with the other disciples on the evening of the first day after the Sabbath, tells us, that Jesus appears to them in the glory of His resurrected body, effortlessly passing through their locked doors and their hidden fears.
He came and stood among them, and said, "Peace be with you!" and He showed them His hands and His side (John 20:19-20); He showed them His wounds.  Jesus offered them proof of His resurrection by showing them the wounds of His passion.  He calmed their fears and brought them peace.  And they realized that it was not an apparition: it was truly Him, the Lord, and they were filled with joy.
On the eighth day Jesus appears to the disciples once again, passing through the locked doors into the Upper Room and showed His wounds to Thomas, so that he could touch them as he had wished to, in order to believe and thus become himself a witness to the Resurrection.  Listen to what follows:
The first thing Jesus does is to go after the one lost sheep whose heart is astray: He lets doubting St Thomas touch His glorious wounds, mercifully removing all doubts that had separated Thomas from the rest of the tiny church.
Then Jesus peers into the eyes of His Apostles, breathes on them, and gives them the power and task to forgive sins in His name.  This was the start of the sacrament of confession, which has been bringing other stray sheep back into the Good Shepherd's fold.
After this meeting with Jesus in the upper room, these weak men turned into passionate preachers, teachers, healers and martyrs as described in the daily Mass readings this week, and in today first reading from The Acts of the Apostles
Today's Gospel story is a familiar one, the story itself and the familiar term of "Doubting Thomas."  When we think of Thomas, he carries that doubting tag.  We think to ourselves, "that wouldn't have been me."  We don't have to see Jesus to believe.  But then, doubt creeps in.
When we reflect on it, we should give "Doubting Thomas" the benefit of the doubt.  We've heard our entire life about Jesus and the resurrection, about God made man.  Thomas was able to meet Jesus and be with him, but Thomas knew Jesus as a man.  Jesus understood He was asking a lot of the apostles and Thomas.  He gently tells Thomas: "Blessed are those who have not seen and believed."
We all doubt.  We doubt our own ability.  We doubt our loved ones.  We don't feel confident in what we believe.  We feel abandoned.  We are not sure we are worth much.
The saints teach us that the world is changed beginning with the conversion of one's own heart, and that this happens through the mercy of God.  And so, whether faced with our own sins or the great tragedies of the world, "our conscience would be distressed, but it would not be in turmoil, for I would recall the wounds of the Lord: 'he was wounded for our iniquities" (Isaiah 53:5).  What sin is there so deadly that it cannot be pardoned by the death of Christ and the Sacrament of Confession?
Jesus invites us to behold these wounds, to touch them as Thomas did, to heal our lack of belief.  Above all, He invites us to enter into the mystery of these wounds, which is the mystery of His merciful love.
The good news: We can believe in Jesus, in the crucifixion and the resurrection.  Even if we can't touch the nail marks or the scourges in Jesus' side, we can believe in the presence of Jesus in our lives.
If we believe in that presence, we need to erase the doubt about ourselves and others.  Almost 20 centuries after that encounter between Christ and his Apostles, in the year 2000, Pope John Paul II established this first Sunday after Easter as a universal Feast of the Church in honor of that Divine Mercy.  In so doing, he was fulfilling a request our Lord himself made in His appearances to the Polish nun, St Faustina Kowalska.
This Sunday of Divine Mercy, is fitting as God's mercy compels us to act, to forgive, to console, to help.  Acting with mercy compels us to overcome our doubts about ourselves and about others.  We can help.  We can contribute.  We can see God in others and in ourselves.  Just the thought of Christ's mercy should fill us with confidence and hope.  But it should also fill us with humility.
On this Divine Mercy Sunday, who better to give us an eloquent insight into the qualities of mercy and justice in this glorious Easter season than William Shakespeare?  In The Merchant of Venice (Act IV, scene 1) he wrote:
     "The quality of mercy is not strain'd,
It drops as the gentle rain from heaven
Upon the place beneath: it is twice blest;
It blesses him that gives and him that takes:
'Tis mightiest in the mightiest: it becomes
The throned monarch better than his crown;
His scepter shows the force of temporal power,
The attribute to awe and majesty,
Wherein doth sit the dread and fear of kings;
But mercy is above this sceptered sway;
It is enthroned in the hearts of kings,
It is an attribute to God himself;
And earthly power doth then show likest God's
When mercy seasons justice."
Jesus commissioned His Apostles to do His work.  Jesus did something which only love and trust can do.  He commissioned His weak and timid apostles to bring the good news of the Gospel to the ends of the earth.  This sending out of the disciples is parallel to the sending out of Jesus by his heavenly Father.  Jesus fulfilled His mission through His perfect love and obedience to the will of His Father.  He called His first disciples and He now calls each one of us to do the same.  Just as He gave His first disciples the gift of the Holy Spirit, so He breathes on each of us the same Holy Spirit who equips us with new life, power, joy, and courage to live each day as followers of the Risen Lord.