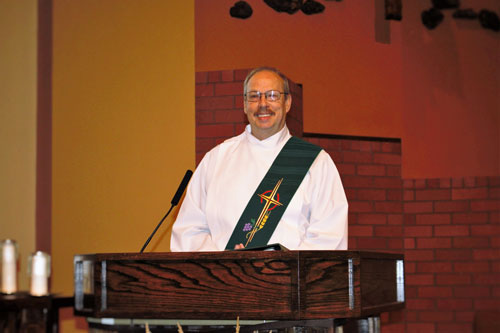 The message for today is quite simple – "All is gift."  Everything we see, feel, or possess is a gift from God.  In the first reading God's great mercy on the repeatedly sinful people can only be gift, as He allows everything to be taken away until they realize what they have lost.  The Gospel reinforces this message: Christ is gift to us.  St. Paul's reading to the Ephesians contains the heart of Paul's theology.  "Salvation is a grace that we receive 'in Christ,' because of Christ.  Grace and faith are essential components of salvation: God bestows the grace and we accept it in faith.  Good works are important but only as a result of having been saved, not as a condition for it."
What are some of these gifts?  The Holy Spirit gives us spiritual power and gifts, especially the seven-fold gifts of wisdom, understanding, right judgment, courage, knowledge, and reverence for God and his ways.  God, the Father of the Universe and all of time, has given us the greatest gift that could be given to anyone.  He loved the world so much; He loved us so much; that He gave us His Son.  "For God so loved the world that he gave his only Son, that whoever believes in him should not perish but have eternal life" (John 3:16).
"The gift was a baby shivering in straw —at once the Son of the Most-High and the child of a Jewish teen-ager.  The gift was an adolescent who called God his Father and Mary his mother, did everything an all-powerful Father in heaven commanded and a carpenter father on earth demanded.  The gift was a man of 30 who scuffed the dust of Palestine from one end to the other because "The Spirit of the Lord is upon me: He has anointed me to preach good news to the poor, has sent me to proclaim release to the captives and…sight to the blind, to set at liberty the oppressed" (Lk 4:18).  The gift was a God-man sold for silver by one of his intimate friends, delivered to his enemies by a cowardly Roman, whipped like a dog, crowned with thorns, pinned to twin beams of wood, and left to die between two criminals.  The gift was a Christ raised from the rock by the power of God", (Fr. Walter Burghardt – SJ).
God proved his love for us by giving us the best he had to offer – his only begotten Son who freely gave himself as an offering to God for our sake and as the atoning sacrifice for our sin and the sin of the world.  Our Gospel passage from John tells us of the great breadth and width of God's love.  God is a loving Father who cannot rest until his wandering children have returned home to him.  Saint Augustine says, "God loves each one of us as if there were only one of us to love."  God gives us the freedom to choose whom and what we will love.  Not an excluding love for just a few or for a single nation, but a redemptive love that embraces the whole world, and a personal love for each and every individual whom God has created.
Jesus Christ was pure gift.  A gift because we had no claim on Christ, we did not deserve him.  A gift because he was born for you and me, lived for you and me, died and rose for you and me—as if you and I were the only persons in the whole world.  A gift—the whole package.  We could take it or leave it.  God gives us free will and we have a choice of whether or not we will accept this free gift that he gives us.  But if we choose to accept this free gift, it has consequences.   For nothing in life is free.
How do we know, beyond a doubt, that God truly loves us and wants us to be united with him forever?  The call of the gospel is to have a relationship with God who is in charge of all things and to radically trust in him.  We need to trust in a God who remains mysterious, a little hidden.  Is he remaining hidden because he doesn't want to reveal himself fully?  I don't think so.  I think he simply remains hidden because God is too big.  We can't comprehend it all.  We're not attentive enough.  We're not aware enough.  We're not smart enough.  What the gospel promises is that we do have a sense of well-being when we trust in God.
We often take the Scriptures as moral guides, instead of taking them as an invitation to trust in a mystery of God.  The Scriptures do have great moral guidance about how to deal with each other and how to live in this world.  We see example after example of people who don't follow this advice and what happens to them, as seen in our 1st reading from Chronicles.  And we see what happens to people who do follow the advice of the Scriptures.
In the New Testament, Jesus appears to have anger and anxiety, but it's usually toward something.  Always in the gospels, Jesus' anger is focused on evil.  Jesus talks about destroying the evil, but he never talks about getting rid of the person who is doing evil.  It's like the New Testament is an enlarged picture of everything found in the Old Testament.  It's as if we are looking at a finer photograph that is blown up more and more until we recognize that God's anger is mostly directed at evil.  God hates it.  He hates what evil does to the people he loves.  He hates the way evil robs them of life.  He hates the way an addiction will rob someone of life.  He hates the way a self-centered person will rob someone who loves them of the joy of being loved.
Everything God chooses to do for us is gift.  It has nothing to do with our earning it.  It is all grace.  One of the dangers of the Old Testament story in Chronicles is that it sounds like the people deserved punishment.  Certainly, they were in need of a transformation.  But what is interesting is that sometimes we take the stories and twist them around, rationalizing, "Well, if God punishes those people who are bad, then he must really reward those people who are good.  So, I'm going to work really hard so that I get a good reward."  God clearly says through Paul and through Jesus: "Please, please, don't do that.  Don't think that your works are what save you.  It's all grace.  It's all a gift.  It's God giving you something and when you receive this gift, it will produce good works."  We have been saved by the freely given gift of God, so that we might do "good works" as part of our living the risen life of Christ.
It's bound to — because it's called light.  It's called life.  It's called love that is poured into you.  You can't contain this inside of you like a closed box.  It's more like carrying it inside a glass vessel, like a lamp, that shines out everywhere.  You can't hide it."  St. Gregory the Theologian reminds us, "Grace is not given to them who speak their faith, but to those who live their faith."
I am going to leave you with some very simple thoughts today.
"All that God calls us to be is a disciple of Jesus Christ. Nothing more!"
"What you wonder, what you struggle with, what you experience in your daily life… you do not do alone."
"All of us must discern God's call."
"All of us work to be in intimate relationships with others."
"All of us are challenged to give of ourselves so to rely more on God."
"All of us have a mission of building up the Kingdom."
"And all of us, like it or not, fail along the way."
Lent invites us to contemplate salvation from the very beginning: through the history of a people that experienced the mercy of God. Freed from darkness, they became a new people that continued to seek out God's mercy.  In the same way, we the Church proclaim God's salvation in various ways: by our lives, by our devotion to the Word, and by the sign of the cross.
We are called never to forget the mercy and grace of God, whose love for us has saved us from eternal death.  This is pure gift.  We have not earned it; we cannot work for it.  Our good works are a response to that love; filled with it, we work to transform our communities, our nation and our world, that all may seek peace and justice, and be faithful to God's call.