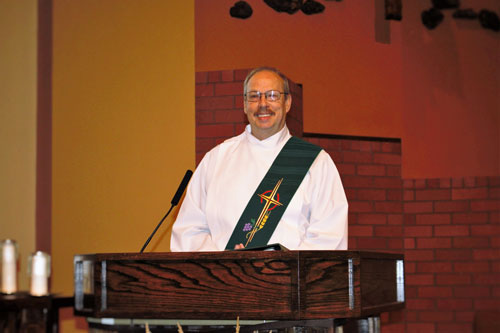 We are going to look at three things here today.  1st) pain and suffering, 2nd) proclaiming the good news, and 3rd) who do we take our troubles to?
Let's first look at our reading from Job.
"Is not man's life on earth a drudgery?
Are not his days those of hirelings?
He is a slave who longs for the shade,
a hireling who waits for his wages."
To understand Job we need to understand his pain and suffering.  Job was a pious and blameless man, who was perfectly happy and content.  He believed in the one, true God, whom he adored and offered sacrifice; even when he was in the midst of his most severe suffering.  We need to ask ourselves – how did Job get into the fix he was in?
Satan implied to the angels of God's court that Job's virtue was not genuine.  God permits Job to be tested.  Blow after blow falls upon Job, depriving him of his possessions and his children.  Job remains faithful, and then is attacked personally; he becomes gravely ill and disfigured that his wife can't stand him.  He accepts the physical evil which God sends him, just as he accepted the contentment he had enjoyed.
Job's suffering is so great that he cries out when his friends try to console him.  His friends consider his suffering to be a punishment for sin, but Job insists that he is blameless.  The friends invite him to recognize his fault and beg God's forgiveness.  Not claiming to be completely free from sin, Job maintains that the suffering is far greater than his faults deserve (think, "why me Lord).  He knows that God is just, but he doesn't understand why God is sending him all these sufferings.
His anguished questioning ended when God appeared to him, not to defend His wisdom, but His mystery.  Job trusted God, not because he could prove that God merited his trust, but because he had experienced God.  Ultimately, he trusted God because he loved Him.  Not the other way round: not trust first, then love.  He trusted because he loved.
The Book of Job "does not offer Job's experience as a way to understand evil, but as a way to live with it.  He had to face the problem of evil.  The experience of Job is that one can support evil only when one experiences an insight into the reality of God."  Only trust makes evil endurable-trust not because God has offered proof, but because God has shown His face.  From the experience of God … we are to love God … to trust in God.
God sends evil and suffering not only to punish people; their primary purpose is to purify man of his faults and prevent him from committing worse sins.  The mystery of suffering continues to touch us daily to our very core. The things we experience in life are a trial, a trial of our faith in him.  Sometimes God takes us through a "detour" in life to realize the path that will lead us closer to him.  We need to be strong and believe.
Each day is a blessing. Each waking moment is a gift.  Every cross you carry makes you stronger.  Every prayer is answered; you just have to listen.  These are the lessons that we have learned in our journey from suffering to healing. Knowing that the prognosis for pancreatic cancer is very slim, for me to be able to write about the experiences in my journey is a miracle … a gift from GOD.
Now, let's look at St. Paul in his message to the Corinthians and to us:
If I preach the gospel, this is no reason for me to boast,
for an obligation has been imposed on me,
and woe to me if I do not preach it!
I have become all things to all, to save at least some.
All this I do for the sake of the gospel,
so that I too may have a share in it."
St. Paul proclaims what he says by telling what he himself does.  He clearly understands that he has a duty and responsibility to preach the Gospel.  He can either do it willingly or unwillingly, but he is compelled to do it. Preaching is the expression of Saint Paul's being a Christian.  The servant sent by the Lord does what he has to do even if he is not willing, because if he does not do it he will suffer for it.  Moses preached to Pharaoh even though he did not want to (Exodus 4:10; 5:1), and Jonah was forced to preach to the Ninevites (Jonah 1:1-3:4)
Saint Paul is living out the commandment to "love his neighbor"; he shows no bias because of social or religious situations.  St. Cyril of Jerusalem said St. Paul gives to all: "To the hungry, bread; to the thirsty, water; to the dead, resurrection; to the sick, a physician; to sinners, redemption," (ca. A.D. 350, Sermon on the Paralytic 10).  Since he is called to be an apostle, Saint Paul can share in the fruits of the gospel only by bringing it to others.   "All this I do for the sake of the gospel, so that I too may have a share in it."
We are no different!  By our Baptism, we are called to be a priestly people.  We are called to share the "Good News." Some Catholics see evangelization as strictly the province of the clergy and professed religious, but Paul was neither of these.  When others think of preaching, it conjures up images of people shouting on busy street corners.  But in fact, it should come as naturally as breathing.  You say that you can't preach.  What generally dominates our conversation? Those things which are most important to us.  If there's a big event coming up or currently happening in our life, everybody around us will hear about it.  You only need look at social media, especially Facebook and Twitter.  Hopefully, we do that in a manner that is both effective and inoffensive.  The same is true of our faith.  It should just naturally find its way into our exchanges with others.
We've all heard that the best way to preach is by example, and that is also true. Francis of Assisi urged his followers to preach always and, if necessary, to use words. Like Paul, we are all called as disciples to preach Jesus by both word and action.
Last, but not least, let's look at the Gospel of Mark:
 "They brought to him all who were ill or possessed by demons."
"He cured many who were sick with various diseases,
and he drove out many demons."
Today's gospel along with last weeks, completes Mark's presentation of an early and typical day in the public ministry of Jesus.  The Sabbath preaching in the Synagogue is followed by the cure of Simon's mother-in-law, and then in the evening by a series of cures and exorcisms.
A sermon of Peter's recorded in Acts sums up the life of Jesus by saying that He went around preaching the gospel, doing good, and healing those who were oppressed by the devil.  If Jesus was foremost a teacher and preacher, a herald of God's Kingdom, then His ministry went well beyond mere words.  His cures and exorcisms were signs that God was indeed with Him.
I ask – Who do you take your troubles to?  Jesus' disciples freely brought their troubles to him because they found him ready and able to deal with any difficulty, affliction, or sickness which they encountered.  When Simon brought Jesus to his home, his mother-in-law was instantly healed because Jesus heard Simon's prayer.  Jesus healed all those who came to him for help.  Although we cannot heal people the way Jesus did, we can help them by making sure that wherever they are in the world, they are able to reach a doctor, or that the doctor can reach them, and that they get the medicine that they need.
St. Paul reminds us that the Christian Community is compelled to tell the story of Jesus Christ.  Conforming our lives to God's will is not one option among many; it is the only option for those who follow Christ. The gospel story, indicates that the Christian life should not let us "get comfortable."  Jesus, having healed the sick and consoled the masses, could have remained where he experienced a little bit of success.  Instead, he moves on, to a new frontier, expands his horizons to preach the message of forgiveness and peace in another place and time.  He is the itinerant messenger of the Lord, who doesn't care how much trouble he stirs up.  He is unrelenting in spreading the message as far and wide as possible, to create the most discomfort so that people 'wake up' and smell the rose of life with and in God.
God's healing power restores us not only to health but to active service and care of others. There is no trouble he does not want to help us with and there is no bondage he can't set us free from.  The hardest thing to do in life is to trust in God, and yet it is the easiest.  Think of all the people who came to see Jesus in our gospel reading today.  They had blind faith.  Were they thinking: "Can he cure me?'  'I don't know.'  'But, if I don't go to see Him, then I will never know."
Remember: "Ask and it will be given."